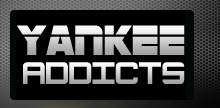 April 8, 2010 · Harold Friend · Jump to comments
Article Source: Bleacher Report - New York Yankees
Rammy Manuel has rooted for the Los Angeles Dodgers since he came to the United States.
He is too young to have seen Bill Bevens' one-hitter in the 1947 World Series, but his father used to talk about that game whenever Rammy mentioned the New York Yankees, the one team that the elder Manuel really didn't like.
My father was at Ebbets Field on Oct. 4, 1947 to see the fourth game of the World Series between his beloved Dodgers and the hated, haughty New York Yankees.
He saw a game that graphically illustrates how differently baseball used to be played.
Bill Bevens started for the Yankees. For eight and two-thirds innings, Bevens held Brooklyn hitless.
It was the deepest into a World Series game that any pitcher had ever gone without allowing a hit.
The 33,443 fans at Ebbets Field weren't interested in having the opportunity to tell their friends that they had been present at the first World Series' no-hitter. They wanted to their team to win.
My father, who never gave up, held out hope, especially since Brooklyn trailed by only one run going to the ninth inning. Bevens had already issued eight walks.
Bill Bevens had pitched eight grueling innings under great pressure.
It was the World Series, the game was being played on the road at Ebbets Field, which was a hitters' park, and the Yankees could take control of the Series with a win.
In 2010, Bevens would have had as much chance of going to the mound for the ninth inning as an unconnected fan has of getting a World Series ticket behind the New York Mets' dugout.
In 1947, Yankees' manager Bucky Harris never thought of taking out Bevens.
Harry Taylor, who had been a rookie sensation, winning 10 games, started for Brooklyn. The only problem was that Taylor had torn a tendon in his right elbow.
That didn't stop Brooklyn manager Burt Shotten from giving him the ball.
Taylor didn't retire any of the four Yankees he faced. When he walked in a run, Hal Gregg took over, and the team from the Bronx scored only that run in the first inning.
The Yankees almost scored in the third inning, but Joe DiMaggio, the great base runner of the New York Yankees, was thrown out at home when Yankees' third base coach Charlie Dressen made a mistake and sent Joe home.
George McQuinn sent a little tapper in front of the plate that catcher Bruce Edwards pounced on, but his hasty throw sailed into right field. Right fielder Dixie Walker, "the people's choice," threw out DiMaggio at the plate.
Brooklyn scored a run without a hit in the fifth inning when Bevens walked Spider Jorgensen and Hal Gregg with no outs.
Phil Rizzuto nemesis Eddie Stanky sacrificed the runners to second and third, and Pee Wee Reese got Jorgensen home with a ground ball to Phil.
Bevens' first batter in the ninth inning was Bruce Edwards.
Brooklyn's catcher raised the hopes of the faithful when he slammed a deep drive to left field that appeared destined to be an extra base hit, but Johnny Lindell made a leaping grab in front of the wall.
Bevens walked Carl Furillo.
Spider Jorgensen fouled out behind first for the second out.
Bevens was within one out of a World Series no-hitter.
Burt Shotten sent in Al Gionfriddo to run for Furillo. He pinch-hit for pitcher Hugh Casey with Pete Reiser, who was on the bench because he had sprained his ankle the previous day.
The count was two balls and one strike when Shotten gave Gionfriddo the green light to steal second, putting the potential tying run in jeopardy.
Al stole second.
Pete Reiser could have been one of the greatest players of all time if not for the outfield walls.
It was felt that no one in the game during the early 1940s, not Joe DiMaggio, not Ted Williams, not Stan Musial, could match Reiser's all-around skills.
Leo Durocher, who considered Willie Mays the greatest of the great, said ""Pete had everything Willie Mays did. Except luck."
Reiser was still a big offensive threat. Bucky Harris went against the "book."
He had Bevens intentionally walked Reiser, putting the potential winning run on base.
Eddie Miksis ran for Reiser and Cookie Lavagetto pinch-hit for Stanky.
No one could describe what happened next better than Red Barber.
"Wait a minute. Stanky is being called back from the plate and Lavagetto goes up to hit.
"Gionfriddo walks off second, Miksis off first. They're both ready to go on anything. Two men out, last of the ninth"
"The pitch … swung on. There's a drive hit out toward the right field corner. Henrich is going back. He can't get it! It's off the wall for a base hit!
"Here comes the tying run, and here comes the winning run! Well, I'll be a suck-egg mule!"
Today's pitchers are used as if they were specialists. Starters pitch six or seven innings.
It is incomprehensible that a starter who walks ten batters would still be pitching in the ninth inning.
If Bill Bevens pitched in the 2010 World Series, he would not be around for the sixth inning.
References:
Read more New York Yankees news on BleacherReport.com