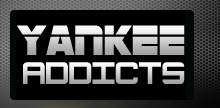 April 6, 2010 · Bronx Baseball Daily · Jump to comments
Article Source: Bleacher Report - New York Yankees
Yankees fifth starter did not make the trip to Boston for Opening Day. Instead, Hughes stayed behind to get some additional work before his first start of the season on April 15th in New York against the often tough-to-beat Angels.
In an extended spring simulated start, Hughes pitched the equivalent of 8 1/3 innings and allowed three hits. He also struck out 12.
According to the AP, Hughes was "very happy" with his control and felt good about the outing. Seventy of Hughes' 100 pitches went for strikes.
Now, we all know this isn't the same as facing a major league club. The fact remains, however, that if Hughes' control is on and his new change-up is working well, he'll have the chance to have a big season in the five-spot for the Yankees. With so much debate surrounding the issue of the fifth starter this Spring, Hughes knows what's at stake.
As much as I'm a fan of Joba in the starting rotation, I am looking forward to seeing what Hughes can bring to the club. In my first year covering Scranton, I have a vivid memory of my first interview with Phil Hughes. This was the year for Hughes, he was drawing the same kind of attention as Jesus Montero currently is. Since then, it's been an up and down road for Hughes.
This year is his chance.
Related Stories
Read more New York Yankees news on BleacherReport.com