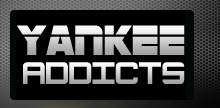 January 28, 2013 · Zachary D. Rymer · Jump to comments
Article Source: Bleacher Report - New York Yankees
When Russell Martin signed with the Pittsburgh Pirates in November, the New York Yankees lost a player who was a big part of their team in 2011 and 2012. Replacing his production won't be easy, and his departure most definitely has the potential to impact the club's record in 2013.
In a negative way, mind you. Not in a good way.
Andrew Marchand of ESPNNewYork.com is convinced that the Yankees are going to miss Martin in 2013, and so am I. Martin only hit .211 in 2012, but he was a solid presence behind the plate and a good guy to have up to bat with the game on the line.
As far as just how many wins Martin was worth in and of himself, all we have for that is the universally beloved love-it-or-hate-it Wins Above Replacement metric. By FanGraphs' reckoning, Martin was worth 3.0 WAR in 2011 and 2.2 WAR in 2012.
Martin's WAR was also 2.2 in his final season with the Los Angeles Dodgers in 2010, so his recent statistical track record suggests pretty strongly that the Yankees lost a guy worth somewhere between two and three wins.
Martin's offensive value will be the hardest thing to replace. He hit only .224 in two seasons with the Yankees, but he compiled a decent enough .723 OPS and hit 39 homers. These are just OK numbers for most players, but they're above average for a catcher.
Defensively, Martin compiled a 1.6 defensive WAR (from Baseball-Reference.com) in his two seasons with New York. He wasn't great in terms of cutting down would-be base stealers, but he made few mistakes and was good at doing the little things to prevent runs from crossing the plate.
Martin's rapport with Yankees pitchers is something that's harder to quantify in terms of value, but it reflects well on him that Yankees hurlers had a 3.70 ERA when throwing to him in 2011 and a 4.03 ERA when throwing to him in 2012.
By comparison, Yankees hurlers had a 4.13 ERA when throwing to Jorge Posada in 2010, and a 5.02 ERA when throwing to him in 2009. Going from him to Martin was an upgrade for Yankees pitchers.
It's going to be much harder for the Yankees to upgrade their station at catcher in 2013, as they'll be going from Martin to…
Well, who exactly?
Good question. All we really know is that well-regarded prospect Austin Romine is likely to start the 2013 season in the minors, as the New York Daily News reported, which would leave Chris Stewart and Francisco Cervelli to vie for the job.
Offensively, neither Stewart nor Cervelli will be able to fill Martin's shoes. Stewart has a .583 OPS for his major league career and a .689 OPS for his minor league career. Cervelli has a .692 OPS in the majors and an only slightly promising .713 OPS in the minors.
Assuming Stewart and Cervelli don't prioritize their hitting over their defense and/or start ingesting substances they shouldn't be ingesting, the Yankees are going to have to be content with the two of them to provide value on defense and in their ability to call games.
This is where the Yankees' hopes are not misplaced, as both Stewart and Cervelli are strong defensive catchers. Despite seeing limited action, Stewart compiled a 2.4 total dWAR in 2011 and 2012. Cervelli also rated well on defense when he was getting fairly regular playing time in 2009, 2010 and 2011.
Stewart and Cervelli have also tended to handle pitchers well. Stewart had a 2.74 catcher's ERA in 2011 with the San Francisco Giants and a 3.41 ERA with the Yankees in 2012. Cervelli's catcher's ERAs from 2009 to 2011 were 3.43, 4.04 and 3.50.
It's certainly possible to get by with catchers who play good defense, take care of a pitching staff and do little else. Take Ryan Hanigan and Kurt Suzuki, for example.
Hanigan caught 98 games for the Cincinnati Reds in 2012, posting a dWAR of 1.5 and a catcher's ERA of 3.03. He did little offensively, but he was worth 1.7 total WAR and generally played a huge part in Cincinnati's allowing only 540 runs all season, tied for second fewest in MLB.
Suzuki played for two successful teams in the Oakland A's and Washington Nationals in 2012, compiling a total dWAR of 1.0. He had a catcher's ERA of 3.52 in Oakland and 3.46 in Washington.
The lesson learned: Run prevention can go a long way.
Such is the Yankees' hope for their catcher spot in 2013. With little offense likely to come from Stewart, Cervelli and Romine—who has been an up-and-down offensive performer in the minors—the Yankees will be fine if their catchers keep runs off the board with the best of 'em and the rest of their lineup picks up the slack.
That, however, is where things get dicey.
The Yankees took a step back offensively in 2012, scoring roughly 60 fewer runs than they did in 2011. That was thanks to a decreased collective OBP, as well as an uncharacteristically poor .256 batting average with runners in scoring position. They hit home runs, but didn't do much else.
The Yankees' lineup will have to be better in 2013 for the club to not feel the loss of Martin, and that's an iffy proposition because of the sheer number of potential pitfalls.
Mark Teixeira is on a steady decline as an offensive producer. Curtis Granderson can be counted on for around 40 home runs, but he's managed an OBP higher than .330 in only one of the past four seasons. Derek Jeter proved in 2012 that he can still hit, but he may not do so well on a surgically repaired ankle in 2013, and he could also fall prey to a BABIP regression.
BABIP could bite Ichiro Suzuki as well, and the Yankees should get very little power production from him, Brett Gardner and their catchers. They also have no idea what kind of power production they're going to get at third base between Kevin Youkilis and (maybe) Alex Rodriguez.
The Yankees still had one of the league's elite offense in 2012 despite their weaknesses. There's a very strong possibility their offense will have more weaknesses in 2013, including at the catcher position, which in turn decreases the likelihood that their offense is going to be elite once again.
The Yankees will be fine if their pitching staff produces along the same lines of Cincinnati's, Oakland's and Washington's pitching staffs produced in 2012, but that's asking a lot. All three clubs finished in the top six in MLB in ERA.
The Yankees finished 12th in ERA in 2012 and haven't upgraded their pitching staff this winter. The usual suspects are all returning, and there's only so much the Stewart-Cervelli-Romine trio can do to make them better. A huge spike in effectiveness is not in the cards for Yankees pitchers.
With their offense in for a decline and their pitching production due to remain fairly steady from where it was in 2012, there's not much hope of the Yankees not feeling the loss of Martin in 2013. The catchers they're going to go with in place of Martin will be able to keep the floor from going too low thanks to run prevention, but the club's ceiling won't be as high with them as it was with Martin.
They lost a player worth two to three wins, and their final 2013 record will likely end up reflecting that. Instead of a 95-win club, the Yankees should be a 92- or 93-win club.
Not so bad in the grand scheme of things, to be sure. After all, 93 wins would have at least tied the Yankees for a wild-card spot in 2012.
92 wins, however, would have left them out of the playoffs.
Note: Stats courtesy of Baseball-Reference.com unless otherwise noted.
If you want to talk baseball, hit me up on Twitter.
Read more New York Yankees news on BleacherReport.com