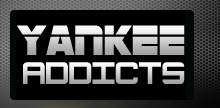 April 27, 2009 · Perry Arnold · Jump to comments
Article Source: Bleacher Report - New York Yankees
Brett Gardner was chosen to start in centerfield for the New York Yankees coming out of Spring Training.
The team now has 18 games under its belt and the record is 9-9. That record coming off an embarrassing sweep by their arch rivals, the Boston Red Sox, in Fenway over the weekend.
There are many problems with the New York team right now.
The biggest problem has been pitching. It has been very, very bad.
Having Alex Rodriquez on the disabled list has created problems on offense and defense.
But one serious concern that Yankee management has to begin to look at is the decision to use Gardner in center.
That was apparently not their optimum choice. Throughout the winter, GM, Brian Cashman, tried to work something out to bring Brewer center fielder, Mike Cameron, to the team.
But when Cameron could not be acquired, the choice came down to Gardner or Melky Cabrera who had started the last three seasons for the Yankees in center, but had a very disappointing campaign in 2008.
Through 18 games Gardner is hitting just .220 and his on base percentage is an unbelievable .254.
Gardner has also struck out 11 times. This is far too many for a player who has been used in several games as the leadoff hitter.
When put in the leadoff slot, Gardner has struck out five times in 16 at bats.
For the entire season Gardner has walked only three times and never when in the leadoff spot.
Gardner also has managed only four RBI and has scored only nine runs despite playing in all 18 games.
Gardner has played excellent defense, but the team is struggling to score runs and struggling to stay in games—Gardner is not helping.
The stats only tell part of the story. He really looks over matched at the plate, unsure of himself and not confident at all.
Melky Cabrera has been used sparingly, but has produced much better.
Cabrera has a .303 average and in his limited time has stroked four home runs, including a game winner against the Indians on Wednesday.
Before the Yankees find themselves in another big hole, as they did last year, they need to determine whether they can afford to gamble with the experiment in centerfield or whether Gardner needs to be replaced with Cabrera.