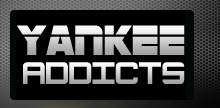 February 17, 2010 · Harold Friend · Jump to comments
Article Source: Bleacher Report - New York Yankees
Mary Lynne Munroe roots against the New York Yankees as much as the next woman, but even she felt sorry for Tony Kubek when he was hit in the throat by a ground ball that took a bad hop in the 1960 World Series.
Kubek suffered a neck injury that might have led to his early retirement.
Bill Virdon's Ground Ball
Now don't get me wrong.
The 1960 Pittsburgh Pirates were a better team than the New York Yankees, as they proved by becoming World Champions, but even I was upset when Bill Virdon's ground ball hit Kubek in throat.
Tony never was the same.
He missed a lot of playing time from 1963-65 with an assortment of injuries, primarily affecting his neck, shoulder, and arm. After the 1965 season, Tony told the Yankees that he might retire.
The Yankees Acquire Ruben Amaro
At the 1965 baseball winter meetings, general manager Ralph Houk, who, unlike me and most fans, refused to publicly acknowledge that the Yankees were no longer contenders, announced that Phil Linz of harmonica fame, had been sent to the Phillies for shortstop Ruben Amaro.
The reason was that Tony Kubek would remain a medical question mark until spring training.
I considered the trade a desperate move made by a team that knew it was finished, but that would never admit it. What a wonderful turn of events.
In the old days, former general manager George Weiss would raid Kansas City or Baltimore. Now, instead of a Roger Maris, or a Ralph Terry, or an Enos Slaughter, or a Bob Turley, Ralph Houk brought in Ruben Amaro.
The Mayo Clinic
When he went to the Mayo Clinic for a number of tests, Kubek was informed that a vertebrate at the base of his neck was the problem. He was advised to rest.
The Yankees felt that Phil Linz couldn't handle shortstop on a regular basis. The Phillies intended to use him as a utility player.
Amaro was an excellent defensive shortstop who was offensively challenged. In 1965, he batted .212.
A Broken Neck
On Jan. 25, 1966, Tony Kubek announced his retirement at the age of 29. An injured nerve at the top of his spinal column was getting worse and it was affecting Tony's reflexes. The cause was the improper healing of a neck injury suffered at an undetermined time.
It turned out that Kubek had previously broken his neck.
"I really have no idea how it happened. It may have happened in a touch football game I played after the 1961 World Series, when I went into the army. I got racked up and lost a couple of teeth.
They also say it could have happened when I got hit in the throat by the bad bounce in the 1960 World Series, but I find it hard to believe because I don't remember having any pain in the back of the neck at that time."
Shortstop was only one of the many Yankees' problems. On the day that Kubek announced his retirement, Mickey Mantle had undergone surgery to remove a loose particle from the tendon sheath of his right shoulder. It was expected that Mickey would no longer be a regular.
When Kubek announced his retirement, second baseman Bobby Richardson, who was considering retirement in order to devote his time to church and youth work, contacted the Yankees to tell them that he would sign for 1966.
I find it impossible to root against a few Yankees (see Bobby Richardson, Derek Jeter and Joe DiMaggio).
We will never know if Bill Virdon's ground ball caused Tony Kubek's early retirement, but that single incident had a lifetime effect on him.
There was a day that Tony was broadcasting a game with Bob Costas. Kubek put his hand on Costas' thigh to stop him when he started talking about the bad hop.
Phil Silvers, who played Sgt. Ernie Bilko on television during the 1950s, was an avid Brooklyn fan, and naturally, a Yankees' hater. Silvers once quipped when a reporter asked him how to rattle Yankees' players, "Show him a pebble."
References:
Special to The New York Times . (1965, November 30). Yankees Acquire Amaro as a Back-Up Shortstop for Medically Doubtful Kubek By JOSEPH DURSO. New York Times (1923-Current file),p. 51. Retrieved February 17, 2010, from ProQuest Historical Newspapers The New York Times (1851 – 2006). (Document ID: 95005247).
By LEONARD KOPPETT. (1966, January 26). Kubek of Yankees Is Forced to Retire at 29 by an Injury to Spinal Nerve :BROKEN NECK HELD CAUSE OF TROUBLE Reflexes Affected Mantle Is Operated On Pact Accepted by Richardson. New York Times (1923-Current file),p. 52. Retrieved February 17, 2010, from ProQuest Historical Newspapers The New York Times (1851 – 2006). (Document ID: 356042502).
Read more New York Yankees news on BleacherReport.com