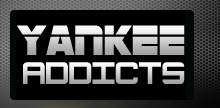 March 30, 2010 · Bronx Baseball Daily · Jump to comments
Article Source: Bleacher Report - New York Yankees
It's a good thing the season didn't start today, because it probably couldn't be raining much harder in New York.
On to some news:
– Mark Teixeira was hit on the elbow with a pitch yesterday. He left the game with what is being called a contusion and will be reevaluated today, but they don't expect him to miss an extended period of time. "It looks pretty nasty," said Teixeira.
– GM Brian Cashman and manager Joe Girardi have not yet met to discuss exactly how they are going to open the season with Phil Hughes. The Yankees don't really need a fifth starter for the first couple of weeks, so they have options.
– The Yankees have cut their roster back significantly, but they've been playing so many split-squad games that they've been using minor leaguers to fill the roster. Today they will get a chance to see switch-pitcher Pat Venditte pitch for the first time in major league camp. Girardi seems excited. "I wanted to see it all spring," Girardi said.
Thoughts on Teixeira
Teixeira seems fine, so there isn't much to discuss here, but it does bring up the issue of what the Yankees would do if he were to go down with an injury.
Like everything else, they'd certainly try to solve it in-house before making a trade or anything like that. That means that Nick Johnson could step in at first base and Marcus Thames or Randy Winn would become the DH, or Juan Miranda could get called up from the minors.
If it were later in the season or for an especially long period of time, it's possible they could move Johnson to first and call up Jesus Montero too.
Thoughts on Hughes
As for Phil Hughes, I alluded to options the Yankees have with him, so let's go over them here. The first choice they have is to just let him pitch when his turn comes around without skipping him. This is something the Yankees don't usually do with their fifth starters early in the year, but it would give them a chance to start all their pitchers off slowly with plenty of rest.
The second choice is that they can use him in the bullpen for the first week or two.
The third choice is that they can send him to the minors for the first couple of weeks and use his roster spot for an extra reliever.
What option will they choose? It's hard to say. I doubt they would send him to the minors, and it's even less likely they'll use him out of the bullpen. So they'll probably just use him when his turn comes around or maybe even take a fourth option of just giving him a couple of weeks off.
Thoughts on Venditte
While covering the Staten Island Yankees in 2008, I was very impressed with Venditte both on and off the field. I wouldn't exactly call 2010 a make-or-break season for him as a prospect, but he's going to have to continue pitching well.
Unfortunately he can do something that is pretty cool, and it doesn't always work for him—meaning if he pitches poorly, there are going to be a few people that are quick to call him a sideshow act. He isn't. He's also turning 25 soon, and that's about the time a prospect should be making his move.
Here's Girardi's entire quote about Venditte: "I wanted to see it all spring," Girardi said of the switch pitcher. "I think it's interesting. I would like to put him in against left, right, left. I have been intrigued. He had a great year last year. I asked at one point that I would love to see him."
Read more New York Yankees news on BleacherReport.com