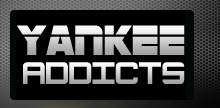 March 24, 2010 · Bronx Baseball Daily · Jump to comments
Article Source: Bleacher Report - New York Yankees
With Phil Hughes likely the team's fifth starter and Curtis Granderson firmly in place as the team's center fielder, the Yankees are just about set for the season.
Now we just have to find out who the utility infielder is, exactly how the bullpen is going to be set up, and wait…
Until then, here are some news items to hold you over.
Josh Beckett is one of the bigger names on the free agent market this offseason. Will the Yankees be interested in the Red Sox ace? Friend of the blog Ed Valentine over at Pinstripe Alley thinks it's worth serious consideration.
Doc Gooden is in trouble with the law, again. This time it is a list of offenses including drunk driving. Is it really that hard to stay out of jail?
Edwar Ramirez was traded, again. This time it was to the Oakland A's for infielder Gregorio Petit. The Yankees got cash for him—they're probably better off with the cash. Petit has a cool first name but can't hit a lick.
I think the Yankees will give serious consideration to Josh Beckett this offseason, but only after they sign or fail to sign Cliff Lee. I can't see them signing both Lee and Beckett, but then again, I didn't imagine they would sign both CC Sabathia and Mark Teixeira, and that happened.
One scenario I could envision that has both Lee and Beckett in the rotation next season involves Brett Gardner stepping his hitting up—getting an OBP of something like .360 or better—and being one of the best defensive outfielders in all of baseball. That way they would not have to sign another outfielder. What do you think of that?
The funny thing about Doc Gooden getting arrested is that it happened in Franklin Lakes, New Jersey. That happens to be a place where I've spent a few fun nights. It happened on Old Mill Road, so any of my friends who are reading this and might have been with me during those nights, if you remember the address of where we were, maybe you could look it up. I doubt he was hanging around the same places I was though.
As for Edwar, I guess the Rangers thought he couldn't hack it in their bandbox. The Athletics and Billy Bean seem like a perfect match for him though.
Related Stories
Read more New York Yankees news on BleacherReport.com