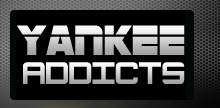 March 27, 2010 · Bronx Baseball Daily · Jump to comments
Article Source: Bleacher Report - New York Yankees
Joba Chamberlain got his first taste of action as a reliever this spring. He had a save in today's 2-1 win over the Detroit Tigers. Here is some other news on a nice Saturday afternoon:
The Yankees may have an inside track on signing outfielder Jayson Werth next season thanks to Reggie Jackson's relationship with his family. Jackson went out to eat with Werth yesterday, but said the meeting was strictly personal. "This was not for the Yankees, this was for old-time's sake," Jackson said .
The Yankees cut Cuban righty Amaury Sanit yesterday .
TMZ reported that the Yankees will receive their World Series rings during their home opener on April 13.
Alex Rodriguez did not go to Buffalo yesterday to meet with federal investigators about Dr. Anthony Galea yesterday. The meeting was postponed. No word yet on when it will be rescheduled, hopefully they can still get this over with before the season starts.
Most people have assumed that the Yankees will target outfielder Carl Crawford next season, which is still a strong possibility, but it is also possible that they will target Werth instead.
Werth obviously isn't as strong defensively or as fast, but he hits for a lot more power.
It could come down to how much money each outfielder wants and it is possible that the Yankees get Werth for less money overall than they would Crawford, especially if he is motivated to come to the Bronx because of his relationship with Reggie.
Related Stories
Read more New York Yankees news on BleacherReport.com