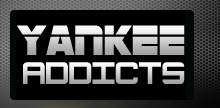 March 4, 2010 · Bronx Baseball Daily · Jump to comments
Article Source: Bleacher Report - New York Yankees
Here are some newsworthy bits that didn't quite have enough to make a story out of, but are important anyways:
Jon Heyman of Sports Illustrated spoke with some MLB executives that believe Derek Jeter will ask for a 6-year-deal which would cover him until he's 42, the same age A-Rod will be when his contract expires.
The Yankees are playing this afternoon, but the game won't be televised, at least in New York, until 7:00pm tonight. But in Chad Jennings' game thread he pointed out that Nick Johnson was scratched from today's lineup because of a stiff lower back.
NoMaas.org scored another player interview . This time it is with Brett Gardner , a guy they used to be pretty critical of. They did eventually drink the Kool-Aid at some point last summer. I wonder if they'll still like him a few months from now.
People are making a really big deal about Jeter's contract this spring, probably because there isn't a whole lot else going on, but I suppose it is fun to speculate.
We know he's definitely coming back, we also know that he does have aspirations of owning a team, not necessarily the Yankees, but everything else is just a guess. A two-year contract? A four-year contract? A six-year contract could be likely too.
If you've heard from me in the past on this issue, I've always been in favor of something unorthodox like a 15-year contract where he could play as long as he wants and then the deal would be transferred over to pay him to work in the front office.
That could be a good way to keep annual payments to Jeter down and prepare him to run a team. In 15 years, Jeter would be 51, still plenty of time for him to buy and run a team.
As for Nick Johnson, a stiff back at this point isn't a giant red flag, but because it's Johnson we should probably keep an eye on it since he's got such an extensive injury history . This is most likely just some spring stiffness though.
Related Stories
Read more New York Yankees news on BleacherReport.com