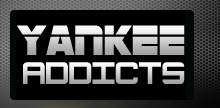 April 19, 2009 · Gary Marchese · Jump to comments
Article Source: Bleacher Report - New York Yankees
The New York Yankees defeated the Cleveland Indians today, 7-3.
A.J. Burnett made the start and didn't have great control, walking seven batters which I think was helped along by the umpire. He only gave up three hits and three runs through six and-a-third innings.
Jon Albaladejo was the star pitcher though, getting out of a bases loaded, one-out jam in the seventh. Brian Bruney pitched another perfect inning and Mo slammed the door with two strikeouts.
The offense was stymied early by Carl Pavano, who retired the first ten batters he faced before Derek Jeter got a double. Mark Teixera had a RBI single and a walk. He also got robbed of a hit.
Jorge Posada was the star of the offense though, pinch hitting in the seventh inning and hitting a two-run home run. The home run was controversial. It was replayed and took eight and-a-half minutes for them to rule it a home run as they had on the field.
The home run that was hit today is a problem in the new stadium as Michael Kay mentioned on the YES network broadcast. The subject was also brought up by Peter Abraham on his blog and many others, I am sure.
The problem is that in the old stadium, after the Jeffrey Maier game in 1996 when he reached over and interfered with a ball that was ruled a home run, the Yankees put security there so no one could do that anymore.
The new stadium has seats right up against the wall so they can't do that anymore and any balls that are close have a chance potentially to interfere and thus lots of replays could be a problem.
The game saw a record set for most home runs in any park in the history of baseball for four games. The new stadium also had the most home runs hit to open a new stadium ever in the first three games.
I don't know if this is good or bad yet but I suspect it will benefit the Yankees as they should have better pitching than most teams. They also have firepower especially when A-rod comes back.
He must be salivating to get back.
The Yankees will open up a three game series with old friend, Jason Giambi and the Oakland Athletics tomorrow, weather permitting.