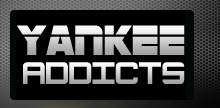 April 1, 2010 · Bronx Baseball Daily · Jump to comments
Article Source: Bleacher Report - New York Yankees
As we look at the Yankees' 2010 schedule, there really are no very easy stretches at any point this season. First, we'll look at it by month, then by important series and dates.
Schedule by Month:
The Yanks open up the season seeing 15 road games and only 7 home games. It's possibly the toughest part of their schedule for the entire season too.
They'll open up in Boston, then head down to Tampa. They open up at home eight days after the season opener against the Angels, who are followed by the Rangers. Then, it's a short west coast swing in Oakland and against the Angels again, this time in LA. They come back to the east coast to Baltimore, then finally back home to start a series versus the White Sox.
The only positive coming out of this is that the Yanks get every Monday in April off, plus the Thursday leading to Tampa.
May eases up a bit, with more home games and teams that aren't as good (sorry Indians, Tigers, Mets).
June is the interleague swing, where we'll see Houston (and we'll pray for no 6-man no hitter this time), the Phillies from Philly and those Mets again. Then it's to the west coast with no off day to Arizona, then to the Dodgers (hello, Joe). After watching CC smash some home runs to Mannywood, we'll see Seattle 7 of the last 13 games heading into the All-Star Break.
August looks easier, and then September has potential to be completely on the Yankees side, or completely against it. 25 of the last 28 games are against AL East teams, including closing the season out in Boston.
Significant Series and Dates:
Opening Day (4/4), of course. Yanks v Sox, CC v Beckett, blah blah blah. 8pm game on ESPN2
April 13, Yankees Home Opener v LAA. We get our rings (cheers), and we get to see good ol' WS MVP Hideki get his ring.
April 15, v LAA. Phil Hughes makes his season debut. We'll see how he can perform with the starter title again.
April 20-29, longest road trip of the season. at Oakland, at Los Angeles, at Baltimore (9 games)
June 7-9, First-year player draft
June 15-17, v PHI. Re-match of last years World Series, so it has to have some kind of importance, right?
June 25-27, v LAD. The first time we get to see Joe Torre in Dodger blue against the Pinstripes.
July 11-15. July 11 is in Seattle, but it's important because the All-Star game (July 12-13) is in Anaheim. Importance? Alex [Rodriguez] won't need to fly cross-country to Anaheim, so he'll be able to get his beauty sleep to not partake in the Home Run Derby. This is the first time in my memory that they're giving two off days after the game, without one before.
July 17, vs Tampa Bay. Significant because it's Old Timers' Day!
July 31, MLB Trade Deadline
August 30-September 8, longest home stand of the season. v Oakland, v Toronto, v Baltimore (10 games)
October 1-3, at Boston. Isn't it fitting that the season begins and ends in Boston?
Positives:
August and September are filled with home games, so home-field advantage could easily play a big role in the playoff chase down the stretch.
Negatives:
We see Cleveland and Kansas City the least of everyone in the AL this season (8 times each).
To see the full season schedule, click here.
Interested in the 2010 Promotions schedule? click here.
Most Commented Posts
Read more New York Yankees news on BleacherReport.com