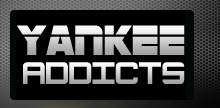 March 8, 2010 · Bronx Baseball Daily · Jump to comments
Article Source: Bleacher Report - New York Yankees
According to Rob Gillies of the AP, the doctor under investigation in connection to Alex Rodriguez said he treated, but only prescribed him anti-imflammatories and not HGH.
Dr. Anthony Galea also told The Associated Press an assistant who was stopped at the U.S.-Canadian border in Buffalo, N.Y., last year was carrying only a minuscule amount of HGH—which Galea said was for his own use. The doctor reiterated that he has never given the drug to an athlete.

"I only brought enough for her to do two injections into me because I was away for two nights," said Galea, who believes authorities and the media have exaggerated the accusations involving him and his practice.

"They made it look like I had 100 vials. I had one little vial and two doses were for me and you think that someone along the line would ask "'Well how much is there?"'

Rodriguez and other high-profile baseball players including Jose Reyes and Carlos Beltran(notes) have been contacted by U.S. federal investigators regarding Galea. Reyes and Beltran each say they did not receive HGH from Galea.

Rodriguez said last week he was "aware" of the investigation and plans to cooperate with the government. He declined comment again when asked about Galea after he left New York's spring training game Monday against the Pittsburgh Pirates.

Galea said that he helped with Rodriguez's rehabilitation from hip surgery last March.

"He had a damaged hip. Inflamed. It was damaged," Galea said in an interview at his clinic. "He needed anti-inflammatories for his hip. I was basically helping in the rehab."

Rodriguez could be in violation of the record $275 million, 10-year contract he signed before the 2008 season. The Yankees released a statement last Monday saying they never authorized Galea to treat the slugger.
I don't see how this changes anything except that the Yankees could potentially void A-Rod's contract if they are indeed upset with him. But you have to imagine that with A-Rod being counted on as a major cog in the Yankee lineup they'd have to be very upset with him to void his contract so I doubt that is realistic.
Otherwise this could be seen as good news as the doctor is not about to throw A-Rod under the bus.
Related Stories
Read more New York Yankees news on BleacherReport.com