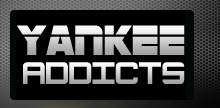 May 18, 2009 · Micheal Robinson · Jump to comments
Article Source: Bleacher Report - New York Yankees
First, Monument Park was destroyed, then the grass was pulled up. Now, the seats are being ripped out like Ruth's heart is being ripped out of his chest.
Regardless of the 1976 renovation, with every pull of a blue seat, every Yankee legend, alive or gone, feels the pain.
While the 2009 New York Yankees and their fans celebrate across the street with three walk-off victories in May of 2009, old Yankee Stadium is alone and empty, with strangers inside wearing construction jackets ripping apart its insides.
Let's face it: it had to happen eventually. We all know that, but that doesn't mean we want it to happen.
I was lucky to go to two games in the old park, and it still hurts me. I could imagine how others must feel.
My first game was in upper deck behind home plate in August of 2005 against the Chicago White Sox, a 2-1 loss.
My second and final game was in September of 2007, a victory against the Toronto Blue Jays where Joba Chamberlain got his only career save so far.
The new ball park isn't a bad thing. I am excited to get in there and see it.
The home announcers and visiting announcers have had nothing but good things to say about the park. I am sure that's because they get treated like royalty in those nice booths.
Still, I will have a hard time seeing the old stadium get taken apart piece by piece this year, to be demolished by 2010. I would like to get my hands on something from the Stadium, but the prices make me sick to my stomach.
The price for dirt isn't too bad from what I have seen, but I would like to get a hold of a seat or a piece of a bench.
I would like to know what Derek Jeter took on his last day at the Stadium. He claims he was going to take something and wasn't going to tell anyone about it.
One of the unique articles offered in an upcoming Legends Auction is the door to the workout room that has a gash in its middle due to Derek Jeter hitting it with his bat before every single game.
Sooner or later, the stadium will be gone. Just wake me up when it is over. I don't want to see it go down.
Yogi Berra said it best last year before the stadium's last game, "It ain't over 'til it's over…this time it's really over."