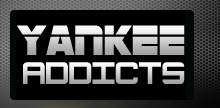 March 17, 2012 · Harold Friend · Jump to comments
Article Source: Bleacher Report - New York Yankees
When Herb Pennock learned that the Boston Red Sox had traded him to the New York Yankees, he and his wife danced a jig.
With the Yankees from 1923-33, Pennock was 162-90 (.643) with a 3.54 ERA, a 114 ERA+ and a 1.335 WHIP.
Pennock was never an ace. He lacked a good fastball which forced him to develop three curve balls and to use "junk" and guile to win.
He rarely was matched up against the opposition's best or even second-best pitcher. He and Walter Johnson were in the American League for 15 seasons. Pennock started against him three times.
In his first six seasons with the Yankees, Pennock averaged 19 wins a season. He was a clutch pitcher in the World Series, going 5-0 with a 1.95 ERA and an 0.849 WHIP in four Series.
Pennock's last season was in 1934. The Yankees released him in January and he returned to the Red Sox, but made only two starts in 30 appearances.
Pennock became the Philadelphia Phillies' general manager in 1944. According to The Society for American Baseball Research (SABR), Pennock spoke to Brooklyn Dodgers' general manager Branch Rickey in early May 1947 in which he indicated that the Phillies would not take the field if Jackie Robinson were in a Dodgers' uniform.
The teams did play as scheduled on May 9 with Robinson playing first base. The racial epithets directed at Robinson during the four-game series should have seemed unbelievable, but sadly, they were not..
It got so bad that Brooklyn second baseman Eddie Stanky, who was born in Alabama, challenged the Phillies to a fight. Robinson later referred to the first game of that series as his darkest day.
When Pennock passed away on Jan. 30, 1948, Babe Ruth said he was "A honey of a pitcher who never made an enemy."
Pennock had never fared well in the Hall of Fame voting. In 1946, he received a mere 16 percent of the votes, but emotions ran high following his death.
He was elected to the Hall of Fame in 1948, receiving 82 percent of the vote.
Pennock does not belong in the Hall of Fame based on his pitching record and the Hall of Fame's Rule 5 Character Clause.
A career record of 241-162 with a 3.60 ERA, a 106 ERA+ and a 1.348 WHIP are not Hall of Fame worthy. Of greater importance, one must wonder how important the Hall of Fame's Rule 5 Character clause was in electing Pennock.
Read more New York Yankees news on BleacherReport.com