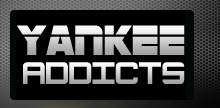 June 14, 2013 · Ely Sussman · Jump to comments
Article Source: Bleacher Report - New York Yankees
New York Yankees general manager Brian Cashman economically replaced his injured stars prior to Opening Day and kept the 2013 team in contention with—to put it gently—declining veterans.
Cashman signed Travis Hafner and Kevin Youkilis to fill the voids at third base and designated hitter, while Alex Rodriguez rehabbed from hip surgery. He obtained Vernon Wells from the Los Angeles Angels when Curtis Granderson went down with an injury in spring training. New York also signed Lyle Overbay as a body to put at first base while Mark Teixeira nursed his wrist back to full strength.
Initially, those aging position players battled admirably to keep the Yankees afloat. As of June 14, unfortunately, they're all seemingly out of fuel.
Their recent performances have done more harm than good. As the Bronx Bombers continue to lose ground in the AL East race, there's concern that these trends might be irreversible.
Vague generalities are occasionally right on the money, but to be sure, let's analyze the fading geezers on a case-by-case basis.
Travis Hafner
Hafner ranks third among Yankees hitters in WAR, OBP and wOBA, according to FanGraphs (min. 150 PA). He would have fallen further by now if not for the fact that everyone outside of Robinson Cano and Brett Gardner has been inconsistent, too.
The longtime DH—previously with the Cleveland Indians—last recorded a hit on June 6. This 0-for-22 stretch dropped his batting average from .252 to .220.
Yet screaming for his release would be premature. The team has been on a West Coast road trip, and Hafner's career batting splits (courtesy of Baseball-Reference.com) suggest that even in his prime, the time change negatively affected him. Also, his reputation for mashing left-handed pitching often leads opposing managers to deplete their bullpens quicker than usual.
Of course, Pronk isn't going to replicate his 1.104 April OPS in any of the remaining months, but it's too soon to deem him entirely washed-up.
Kevin Youkilis
Youkilis started each of New York's first 16 games and posted above-average numbers to temporarily silence the skeptics.
Then reality hit. Lower back soreness forced him to miss 36 of 37 contests in April and May.
Since returning to action, Youkilis has been literally half the player he previously was in terms of batting average and slugging. This Baseball-Reference.com game log chronicles his futile .146/.239/.220 batting line from May 31 through Thursday afternoon:
This small sample is a bit misleading, as you can see from the .214 BABIP. That will normalize closer to the .282 mark Youkilis posted from 2011-2012. So, no, he isn't quite doomed to be an automatic out.
Regression to the mean—or in his case, improvement to the mean—won't matter, however, if fragility haunts him throughout the summer. Manager Joe Girardi admitted to Erik Boland of Newsday that he feels "a little more concerned" about the third baseman's minor aches and pains than he does about those hampering his other players. For example, Youkilis sat out on June 9 with back stiffness.
It's fairly obvious that while the 34-year-old has plenty of remaining ability, his run as an effective everyday MLB player is over.
Vernon Wells
At this time a month ago, Cashman looked like a genius for consuming about $14 million of his contract. Vernon Wells was constantly making loud contact, and a run-of-the-mill .289 BABIP through May 15 suggested that his all-star-caliber numbers were sustainable.
Despite a clean bill of health, the outfielder has managed just one multi-hit game since.
The issue doesn't appear to be mechanical. MLB.com shows us a home run from May 11 and this line-drive single on June 11. Both times, after a subtle stride, he's dead set on pulling the ball. His initial stance isn't quite as open in the second clip, but everything appears identical once the pitch arrives.
The problem is mental—Wells has been reluctant to adjust his approach. During his glory days with the Toronto Blue Jays, he would always let natural ability compensate for a lack of plate discipline. Even when guessing breaking ball and getting fed a four-seamer, he had the bat speed to put it in play with authority.
That's no longer the case. Harmless pop-ups account for most of Wells' contact in the past 25 games. Drawing only two walks in that rough patch has made him a huge liability.
Can he snap out of the funk? For brief periods, yes. Pitchers with less peak velocity or those who struggle to change speeds won't get away with as many mistakes against him.
Moreover, as an adequate defender, Wells can make other types of clutch contributions:
All that said, the Yankees must be anxious for Granderson to get well.
Lyle Overbay
Compared to the above replacements, Overbay had a much more modest climax. His OPS only eclipsed .800 a couple times in May, and he never flirted with a .300 batting average.
Rather, fans were infatuated with his knack for delivering in clutch situations. Baseball-Reference.com defines "Late & Close" situations as "plate appearances in the 7th or later with the batting team tied, ahead by one, or the tying run at least on deck." In those moments, Overbay is .261/.379/.652 with three home runs.
Not bad for someone who stood at the plate with a "wet noodle" in spring training, writes ESPN's Buster Olney (Insider subscription required).
Yankees Universe also respects the selflessness on his part to play some right field, even though the 13-year veteran had no prior major league experience there.
The plain truth is that Overbay lacks Teixeira power and switch-hitting ability. He's a non-factor against southpaws and incapable of producing enough extra bases to compensate for his strikeout rate.
He's been relegated to a back-up role, and that's where he ought to remain if the Yankees plan on surviving into October.
Read more New York Yankees news on BleacherReport.com