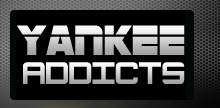 February 14, 2010 · Bronx Baseball Daily · Jump to comments
Article Source: Bleacher Report - New York Yankees
In celebration of Valentine's Day, I thought it would be a good idea to run a special series today. So every hour today we're going to run a collection of pictures of Yankees' wives and girlfriends.
There are 10 in total. Here is the schedule:
10:00 am: Derek Jeter's girlfriend, Minka Kelly
11:00 am: AJ Burnett's wife, Karen Burnett
12:00 pm: Andy Pettitte's wife, Laura Pettitte
1:00 pm: CC Sabathia's wife, Amber Sabathia
2:00 pm: Joe Girardi's wife, Kim Girardi
3:00 pm: Jorge Posada's wife, Laura Posada
4:00 pm Mark Teixeira's wife, Leigh Teixeira
5:00 pm Nick Swisher's girlfriend, Joanna Garcia
6:00 pm Randy Winn's wife, Blessings Winn
and to wrap it up:
7:00 pm the many women of Alex Rodriguez
That's hours and hours of Yankee ladies so keep checking back all day for updates!
And don't forget to follow us on Twitter or become our fan on Facebook .
Have a happy Valentine's Day!
Related Stories
Read more New York Yankees news on BleacherReport.com