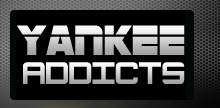 May 10, 2013 · Christopher Connors · Jump to comments
Article Source: Bleacher Report - New York Yankees
Due to performance and popularity, the Yankees enjoy very nice annual representation on the American League All-Star team. This year, even with a lack of stars like Derek Jeter, Mark Teixeira and Alex Rodriguez, the Yankees may still place several players on the All Star roster.
No one ever said that All-Star voting is fair.
In fact, it's a joke. Individuals are permitted to vote up to 25 times online and of course, infinite times in person at the ballpark. People with a modicum of baseball knowledge, or none at all, are given the opportunity to put their democratic stamp on which players participate in the midsummer classic.
Of course, this is all to encourage fan participation and interaction in the voting process. The All-Star Game does determine which league gets home field advantage in the World Series, a gimmicky maneuver by Major League Baseball to keep the game relevant.
For Yankee fans, maybe the only thing that makes this year's All-Star Game interesting is the fact that it's taking place in New York City. Just not in the borough most Bombers fans would prefer.
Citi Field, home of the Mets will host the game in July.
This should make it easier for more Yankee fans to attend the game if they choose. So perhaps the interest this year will be greater. But will the number of Bombers representing the junior circuit?
In 2012, the Yankees placed four all stars.
For the purpose of this column, I will not factor in the chances of those who have not yet played. Yes, Derek Jeter. Might he be voted in by the fans? Possibly but that further diminishes the integrity of the game.
Here is one humble man's attempt at handicapping the odds for some of the Bombers' stars to make the 2013 All Star team.