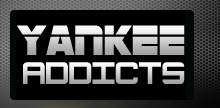 March 7, 2010 · Double G Sports · Jump to comments
Article Source: Bleacher Report - New York Yankees
The battle for the fifth starting spot on the Yankees is up for grabs this spring. While in all reality there are about five players in contention, many believe it will come down to either Joba Chamberlain or Phil Hughes, with the "loser" moving to the bullpen.
I asked a couple friends of Double G Sports to guest blog and give their side of the battle. Daniel Moroz is the blog host at Camden Crazies . Being an Oriole fan, Daniel knows the Yankees well as they are a division rival of his favorite team. He has taken the pro-Joba role for this blog. Jason Wuerfel from Five Tool Prospects plays the pro-Hughes role. Jason has obviously followed both Joba Chamberalin and Phil Hughes as they have developed. His blog covers many of the top prospects in the game of baseball.
Both of these bloggers have great baseball minds and their blogs are a fun place to visit and read. Joba vs Hughes, Camden Crazies vs Five Tool Prospects.
See what these bloggers had to say, visit Double G Sports .
Read more New York Yankees news on BleacherReport.com