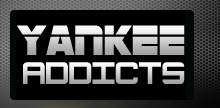 January 31, 2013 · Anthony Maimone · Jump to comments
Article Source: Bleacher Report - New York Yankees
The New York Yankees are the winningest franchise in all of sports. They have won 27 World Series titles that date back as far as the early 1920s.
In order for them to have such success over that long of a time, many great players must pass through along the way.
Back in 2011, David Schoenfield of ESPN.com, and a panel of fellow New York media members, created a list of the 50 greatest Yankees of all-time.
What defines a player as the greatest is tricky. Baseball is a game of statistics and often times that is the easiest indicator.
But stats don't always tell the whole story of a players impact to a franchise. Often times a player can be elevated because of their intangibles.
Postseason success and a clutch gene are also massive factors. The era in which the player played also is taken into consideration.
The following is a list of the 10 greatest players in Yankee history based off the criteria listed above.