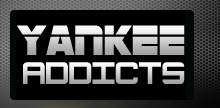 January 23, 2012 · Harold Friend · Jump to comments
Article Source: Bleacher Report - New York Yankees
There used to be a time when New York belonged to the New York Mets. From the late 1960s through the early 1970s, they were New York's top team.
That changed when the New York Yankees won three consecutive pennants and two consecutive World Series from 1976-78. But during the middle 1980s, the Mets challenge returned.
George Steinbrenner considered the Mets as great a threat to the Yankees supremacy as the threat the Boston Red Sox presented.
Steinbrenner tried to play down his concern about the Mets, but he failed miserably.
The year was 1985. The Mets opened the season at Shea Stadium and won their first five games, which was not a good thing for Steinbrenner.
The Yankees owner expressed his concern about the American League's Eastern Division race, but the Mets were constantly on his mind. It was an obsession that many fans understood because they shared the same obsession.
Despite the fact that Steinbenner wanted publicity, he was disturbed that the New York newspapers gave much attention to the exhibition games between the two teams. It didn't matter whether it was an exhibition game or, starting in 1997, a game that counted in the standings.
Yankees second baseman and future Mets manager Willie Randolph had a differing view.
"I don't think the players react that much to what the Mets are doing," Randolph said.
"We're not in competition with the Mets. We're competing in the American League East. It's good for the Mets to do well. Each team has its own following. No one here is focusing on how the Mets are doing."
Don Baylor agreed with Randolph, but acknowledged that Steinbrenner's passion had an effect because the players knew about their team owner's obsession.
"It's added pressure," Baylor said, "when you have that club across the way with whom you're competing for attendance and headlines. Guys are aware of what is said.
"But we're not playing for who's No. 1 in the city. I'm not doing that. I'm playing for who's No. 1 in the American League East."
Steinbrenner knew that the Mets were building something formidable. They had challenged the Chicago Cubs in 1984, finishing second, and over the winter they acquired Gary Carter.
The Mets were ready to roll and Steinbrenner knew it.
Many of the Yankees players feared that the Mets' resurgence would result in Steinbrenner putting undo pressure on them.
Ron Guidry said it best.
"There's always fallout about things here," Guidry said, shrugging off the possible internal ramifications of the Mets' start. "Think how bad things would be if we had three teams."
Reference:
Chass, Murray. (1985, April 16).Mets shadow covers yanks. New York Times, p. B9.
Read more New York Yankees news on BleacherReport.com