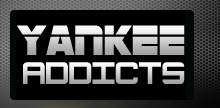 April 11, 2010 · Bronx Baseball Daily · Jump to comments
Article Source: Bleacher Report - New York Yankees
Game six did not have the same feel early as game five, which had CC Sabathia going into the eighth inning with a no-hitter.
This time the Rays got on the board rather quickly, as they scored two runs in the first inning. The Yankees responded in the top of the second with a run of their own after a Curtis Granderson double.
After his shaky first, A.J. Burnett was nearly untouchable, but after five innings the score was still 2-1 Tampa.
Then came the top of the sixth. James Shields had just been taken out after Robinson Cano reached on a double, and ex-Yankee Randy Choate was put in to face Jorge Posada . Jorge went on to smack a Choate pitch to DEEP left to give the Yankees their first lead at 3-2. Granderson scored later in the inning to put the Yanks up 4-2.
The Yankees added three more insurance runs after an Alex Rodriguez two-run double in the seventh and a Nick Swisher solo shot in the eight.
Joe pulled Burnett after the seventh, and in came Joba Chamberlain in the eighth. The season is under way, and decisions have already been made, but what happened today is why I felt the whole time Joba should still be a starter.
Chamberlain gave up only one run in the eighth but allowed two hits and a walk. As a starter a pitcher can get away with allowing one run in an inning (A.J. allowed two in the first but then proceeded to shut out the Rays the next six innings), but a setup man can blow the whole game just by giving up one run. Many starters have had great careers with flaws in control and consistency, but how many relievers can say the same?
I am not saying Phil Hughes should be in the bullpen, but I definitely don't see where Joba is the heir apparent to Mariano Rivera , as Mike Francesa always says.
Speaking of Mariano he came into the ninth to end the game and give the Yankees another rubber game win.
P.S.: I REALLY liked the Rays' third jerseys. Just sayin'.
ALSO: For those of you who saw the game, what did you think about the Pat Burrell/Mark Teixeira "incident?"
Final: Yankees 7 Rays 3
Game MVP: A.J. Burnett
Notes
* A-Rod/Granderson: both 2-for-4 with three RBI total
* Posada: 1-for-3, HR, two RBI
* Baserunners are 7-of-7 on Posada in five games (including Carl Crawford stealing on a pitchout today)
* Crawford: 2-for-4, two RBI, SB
* Burnett: Seven IP, six hits, two ER, three BB, one K
* Shields: 5.1 IP, four hits, two ER, three BB, five K
* W: A.J. Burnett L: Randy Choate
* Tuesday is the home opener, where the Yankees will get their 27th WS rings and Hideki Matsui returns!
Around the AL East
* Toronto 5, Baltimore 2
* Boston 8, Kansas City 6
Follow me on Twitter: SCrociata
Related Stories
Read more New York Yankees news on BleacherReport.com