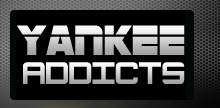 April 27, 2010 · Bronx Baseball Daily · Jump to comments
Article Source: Bleacher Report - New York Yankees
Thought this first series against the Baltimore Orioles would be a breeze? Perhaps not.
The Yankees fell short to the O's 5-4, behind staff ace Kevin Millwood and to the dismay of a shaky Yankee bullpen.
The first inning and a half went quickly.
Luke Scott led off the O's second with a single to left, followed by a Ty Wiggington single, and a walk to Nolan Reimold, loading the bases with one out.
Phil Hughes proceeded to walk Cesar Izturis, handing the Orioles their first run. Hughes didn't look as sharp around the zone as his previous two starts, although it was clear home plate umpire Wally Bell was keeping a consistent tight strike zone.
In the third, Nick Swisher led off with a single, followed by a Randy Winn single.
After a Derek Jeter ground-out moved the runners to second and third, Brett Gardner smashed a grounder to third baseman Miguel Tejada, who took it in the chest and allowed the run to score.
Jorge Posada led off the fourth with a home run onto Eutaw Street. Score after 4: Yankees 2, Orioles 1.
The game kept moving until the bottom of the sixth when Hughes set down the first two batters.
At 109 pitches, Girardi pulled him for Boone Logan , who walked Luke Scott. After that batter, Girardi brought in David Robertson , who hit Ty Wiggington with a pitch, putting runners at first and second and two outs.
Three straight singles from Ryan Hughes, Reimold and Izturis put the O's up by two, 4-2.
Alfredo Aceves worked the seventh and eighth, allowing an unearned run on a single to Cesar Izturis after a Jeter error started the inning.
The Yanks' went into the top of the ninth to face Alfredo Simon, who was making his season debut after Tommy John just a year ago. Swisher singled after a Curtis Granderson strikeout, and Nick Johnson followed with a walk.
After a Jeter strikeout, Gardner reached on an error to short, which allowed a run to score.
Mark Teixeira followed with an RBI single, leaving runners at the corners with two outs for Alex Rodriguez .
The Orioles had him played perfectly up the middle, and won the game.
Final Score: Orioles 5, Yankees 4 .
Game MVP: Cesar Izturis
Notes
Jeter: 0-5 (5-31 on road trip)
Teixeira: 1-3, RBI 2 BB
Granderson: 0-4, 3 K
Winn: 1-3, K
Hughes: 5.2 IP 2 H 1 ER 4 BB 2 K
Robertson: 0.1 IP 3 H 2 ER 1 K (L)
Aceves: 2 IP 2 H 1 R BB K
Millwood: 5.1 IP 5 H 2 ER 3 BB 5 K
Castillo: 1.2 IP 1 H 3 K (W)
Simon: 1 IP 2 H 2 R BB 2 K (S)
Around the AL East
Boston: 2, Toronto: 1
Tampa Bay: 8, Oakland: 6
Yankees Record: 12-7 (7-6 away)
Related Stories
Read more New York Yankees news on BleacherReport.com