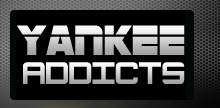 April 20, 2009 · Josh Levitt · Jump to comments
Article Source: Bleacher Report - New York Yankees
First the empty box seats, then the albatross of home runs, and now this from the New York Post:
Freddy "Sez" Schuman, the one-eyed, cookware-clanking octogenarian who's been an unofficial pinstripe mascot for 22 seasons was forced to panhandle for tickets at the new Yankee Stadium this past weekend.

In years past Schuman, who like Yogi Berra turns 84 next month, received free season tickets from sponsors such as Modell's, or was simply let through the press gate with a wink from a stadium official.

On Sunday he stood outside the stadium holding his frying pan and a sign that read, "Freddy Sez, Yankees say 'I can't go in. Must buy ticket!'"

"The Yankees say I am a part of the stadium. What part am I, the toilet bowl?" Schuman said. "But the fans have come through. They gave me $40, and even $100 tickets."

"The uncertainty about his future presence at the stadium has given him insomnia and indigestion," Schuman said.
What a travesty. Freddy is not only a Yankee icon, but a baseball legend as well. I vividly remember banging his pan at Yankee Stadium and hell, even my Mets loving heart was touched.
Well, at least the Yankees are attempting to rectify the situation…they claim:
"Yankee officials insist that shutting out their superfan was just a 'miscommunication.'"
When Schuman first told the New York Post he was nervous about being shut out two weeks ago, a team spokeswoman said, "We love Freddy and will accommodate him."
Accommodate him, they must. Or else.