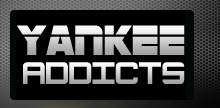 April 1, 2010 · Christopher Chavez · Jump to comments
Article Source: Bleacher Report - New York Yankees
The Yankees' backup catcher, Francisco Cervelli, has been diagnosed with a mild hamstring injury that will most likely have him knocked out of the Yankees' lineup for the rest of spring training.
Joe Girardi, manager of the Yankees, has announced that the Yankees will take an in-depth look at Cervelli every day and list him as a day-to-day injury.
Opening Day for the Yankees is on Sunday, and the Boston Red Sox are eager to take them on and get an early lead in the American League East.
The Yankees are looking to defend their World Series and American League East Division titles in 2010 and see Cervelli as a key player in accomplishing that goal.
Cervelli has been feeling a pinching sensation in his hamstring and is hoping it can be gone quickly before Opening Day. If the injury gets worse, the Yankees may have to resort to putting him on the disabled list for a while and calling up someone from the minors to replace him.
Now Yankee fans are getting excited and have started to ponder whether Jesus Montero will get the call early on, but most likely he will not. Mike Rivera is the most likely candidate for the job. Rivera also suffered a hamstring injury early on in spring training but has recovered since.
On possibly missing Opening Day, Cervelli said, "I want to be there. I think I will be there."
Read more New York Yankees news on BleacherReport.com