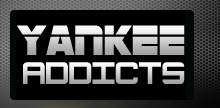 June 14, 2009 · Larry Barnes · Jump to comments
Article Source: Bleacher Report - New York Yankees
Courtesy Yankees 'N More
Francisco Cervelli started at catcher for the New York Yankees today, and was a big part of 15-0 series-clinching victory of the New York Mets.
It was just one more good day for a kid who has had many of them since being forced up from AA Trenton following an early-season injury to Jorge Posada.
Cervelli even became the team's regular catcher for a brief time when Jose Molina also went down with an injury, and he continued to play surprisingly well.
And when Posada returned from his stint on the DL, it was Cervelli who stayed and the veteran Kevin Cash who was shipped to the minors.
Now Cervelli, at least until Molina returns, is the Yankees' second catcher, starting a couple of games a week. And when Cervelli plays, the Yankees are a better defensive team, clearly, than they are when Posada does.
Part of that, of course, is what age and injuries have done to Jorge. Posada, who used to hold his own throwing out would-be base-stealers, is now basically a green light for the opposing running game. Meanwhile, the veteran has never been much for blocking things – be they balls in the dirt or runners trying to beat a play at the plate.
Cervelli, meanwhile, does all those things well. He also has very strong hands. The only time his glove moves after catching pitch is when he wants it to move – perhaps an inch or so, trying to frame a pitch and get his pitcher a call.
The 23-year-old also sets very good target behind the plate, and does an incredible job of handling a veteran pitching staff. He has proven not to be the least bit shy about going to the mound to express opinions to the likes of CC Sabathia, A.J. Burnett and Andy Pettitte.
Perhaps even more telling, each of those veteran pitchers seems quite comfortable to work with Cervelli behind the plate. In fact, it was Cervelli who was working behind the dish when Sabathia threw his first complete-game shutout as a Yankee, against the Orioles in Baltimore.
Even his offense has been better than anybody could have expected. It was Cervelli who finally broke the ice in the final game of the Boston series, lining an RBI double down the left-field line for the Yankees' first run.
That hit sparked a 3-run inning that appeared to have New York on its way to their first victory of the season over the Red Sox. Unfortunately, for the Yankees, they gave up the lead in the eighth inning.


Today, Cervelli came through in big spots again, helping his team nail down a series-clinching win against the Mets.
It was Cervelli, who with two outs in the bottom of the second inning, waited just long enough on a nasty 2-strike changeup from ace Johan Santana, blooping it into right field for an RBI single.
And it was Cervelli, who with a runner on second and no outs in the fourth, intentionally chopped a ball to the right side to advance the runner, and then hustled the play into an infield single. The kid finished the day 3-for-5 at the plate with an RBI and a pair of runs scored.
The performance increased his average this year to .298. He has yet to walk much or hit for power, but he also doesn't strike out much.
This kid has certainly opened the eyes of New York's decision makers. With Hideki Matsui in the final year of his contract, it would not surprise us at all to see Cervelli at least splitting time at catcher (perhaps with Molina) as soon as next season while Posada moves into the DH role.