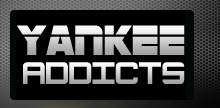 March 6, 2010 · Bronx Baseball Daily · Jump to comments
Article Source: Bleacher Report - New York Yankees
Facing Toronto righty Zech Zinicola today, Yankees catcher Francisco Cervelli suffered a concussion when he was struck in the helmet in the third inning. According to Yankees.com, Cervelli was able to leave the field under his own power with the help of Joe Girardi and trainer Steve Donohue.
Cervelli was immediately taken to St. Joseph's hospital in Tampa for a CT scan.
Going into 2010, Cervelli is expected to be the Yankees back-up catcher, as the Yankees allowed last year's main back-up, Jose Molina to leave via free agency.
There's no official word just yet on the results of the CT scan, but the Yankees are obviously hoping for the best. He performed well in the Bronx last season hitting .298 in 42 games, which included 25 starts.
Since he was able to walk off the field himself, it's generally a good sign, but a concussion isn't something to just toss aside either. Check back later for an update on Cervelli's condition.
Related Stories
Read more New York Yankees news on BleacherReport.com