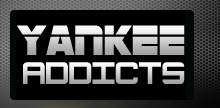 March 10, 2010 · Bronx Baseball Daily · Jump to comments
Article Source: Bleacher Report - New York Yankees
As you probably know by now, Francisco Cervelli sustained a concussion last week when he was hit in the head with a pitch.
It was his second concussion since the Yankees wrapped up the World Series (he also hit his head in winter ball). Cervelli has received good news from all tests involved this time around and was cleared to start light workouts and should be back in the lineup by Friday.
Here is more from Ben Shpigel of the NY Times :
"Whether that's a week, tomorrow, two weeks, it doesn't really matter to me as long as when he's ready, he's ready," Cashman said Monday morning, before Cervelli's status was announced.

Cervelli sustained his first concussion about four months ago, when he was hit in the head by a batter's backswing during a winter game in his native Venezuela. On Saturday, a pitch from Toronto's Zech Zinicola struck him in the helmet. Cervelli was examined Sunday by a team doctor, Andrew Boyer.

"I think we're always cautious with this stuff," Cashman said, adding, "Everybody takes this stuff really seriously."
This is obviously good news for the Yankees who are relying on Cervelli as their primary backup catcher going into the season. If Cervelli had missed significant time they would have been forced to rely on journeyman backup Mike Rivera .
Read more New York Yankees news on BleacherReport.com