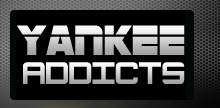 April 21, 2009 · Jon Alba · Jump to comments
Article Source: Bleacher Report - New York Yankees
First the Yankees lost Alex Rodriguez to a hip injury during Spring Training. A team that relies entirely on consistency was heading into Opening Day with a gigantic disadvantage. Then, it appeared disaster struck again.
In the midst of a game against the defending division champion Tampa Bay Rays, Yankees right fielder Xavier Nady launched a relay throw into the infield at Tropicana Stadium. He instantly felt a sharp shot of pain, and was removed from the game.
A day later, the team placed Xavier on the 15-Day Disabled List. Nady went on to miss the team's christening of the new ballpark in the Bronx, and it had been anticipated he would miss the rest of the season. Initial tests provided significant damage, with Yankees manager Joe Girardi going as far as stating that the news "Wasn't good."
Today however, the Yankees can breathe a sigh of relief. Final tests on Nady showed a minor tear of the ligiament in his right elbow, showing no immediate need for surgery. What had been believed to have sidelined him for the season will keep him out for not much longer than a month.
Nady, 30, was awarded the starting right field spot in March after a brief battle for the position with the newly acquired Nick Swisher. The injury had enabled Swisher to reach a brief hot streak, smacking four home runs and eleven runs batted in since the beginning of the season. It is anticipated that upon Nady's return Swisher will slowly be moved into the DH role alongside Hideki Matsui.
Xavier signed a one year deal in the offseason to avoid arbitration, and will be eligible to be a free agent at season's end. In 2003, Nady underwent Tommy John Surgery on his right elbow, the same one that suffered the recent injury.
With Nady on pace to return, the Yankees will look to solidify their lineup before it becomes too late.
Find more similar articles and breaking news updates at www.sportsfullcircle.com