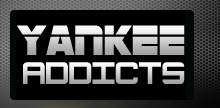 News published by
December 8, 2009
While some sources reported it as a rumor earlier, Jon Heyman of Sports Illustrated has confirmed via his Twitter that the New York Yankees, Arizona Diamondbacks, and Detroit Tigers have ...
June 12, 2009
Every now in then, Al Michaels' famous, "Do You Believe In Miracles?!" call comes into mind.  Well tonight, that case has been displayed once more. In one of the most bizarre ...
April 21, 2009
First the Yankees lost Alex Rodriguez to a hip injury during Spring Training.  A team that relies entirely on consistency was heading into Opening Day with a gigantic disadvantage.  Then, ...