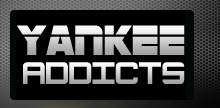 May 3, 2009 · Todd Civin · Jump to comments
Article Source: Bleacher Report - New York Yankees
As an athlete and in most things I do, I consider myself to be a middle of the packer. An average hitter, with average speed (in my day of course) and an arm maybe slightly above average.
As a distance runner, the thoroughbreds win, the plow horses bring up the rear, and I am at best a Clydesdale. And in football, the half back scored, the full back opened the holes and I was a situational back.
But when it comes to eating, I am in a league of my own. Oh sure, Joey Chestnut or Kobayashi I'm not, but put a couple of Big Macs and a Super Sized Fry in front of me and move over Rosie O'Donnell. There's only enough room in this Bleacher Seat for one of us.
I was at a digestive advantage right from the get go. As I journeyed down the birth canal, the surgical team requisitioned an extraction team to dislodge me from a tight connection with my Mom.
Tipping the nursery scale at 10 pounds and four ounces of bouncing boy, with a bulbous head, broad shoulders and a belly which resembled Buddah's, I was described by my Dad as "sort of a dumb looking lad."
He has taken great pleasure over the years by explaining that the nursing staff was seen "slapping the daylights out of the big kid, who kept forgetting to breathe". It was hours later, that Dad found out that the big kid was his son.
Yes, I was the largest of the family litter. I entered the world thinking of food and searching for the nearest Denny's. A jack in the box wasn't a thing I played with, but the place I pointed to as Mom brought me home from the hospital. She jokes that instead of teething on one of those Playschool Plastic Donuts, I longed for Dunkin's.
In my baby pics, I looked a bit like Porky Pig, with chubby jowls and and three chins. Mom was forced to feed me cereal from the day I got home from the hospital as neither the bottle nor the boobies would keep my man-size belly adequately nourished.
She says that I devoured bowl after bowl of Farina and Zwiebacks from Good Morning, Mary Sunshine to Good Night Moon.
My quest for nourishment continued when Mom received a phone call from the school principal on my first day of kindergarten. It seems that toddler Todd had aborted his first trip to the merry go round and had pilfered a couple of his classmates recess snacks. I allegedly engorged myself with Arthur Arguin's six powdered donuts, in addition to the stale brownies Mom had baked. Oops, my bad.
As a ten-year old, I was crowned the Blueberry Pie Eating Champion of the Spencer Fair, an honor I would hold for three consecutive autumn fairs. Season after season I would be challenged by over-confident teens several years my elder. It reminded me of the Barf-o-rama scene from the movie Stand By Me. "And the Women's Auxiliary barfed all over the Benevolent Order of Antelopes."
My prowess continued in college, when six TEP brothers were "firmly asked" to step back from the buffet by some of northern New York's finest. It seems as though we thought the "All You Can Eat Buffet" at Ponderosa meant we didn't have to leave any for others. "But officer, it states all you can eat. We can eat all of this, sir."
During my wedding ceremony, Katie had to hunt me down as I chose to sample from the exquisite chocolate fondue fountain prior to wedding pictures. The photographer thought he could "Photoshop the stains from the pictures."
So a few years back when my boss Tom informed me that, the legend, Bob Cotoumas, held the company "All-time Record" for sausages consumed before a Red Sox game, I licked my proverbial chops. I knew the gauntlet had been laid and I could taste victory.
He told me the rules of the game, though I knew I was going to accept the challenge without knowing any guidelines.
The record is five sausages consumed prior to the throwing of the first pitch.
All sausages had to be purchased from The Sausage King on Landsdowne Street outside Gate E of Fenway.
Partial sausages ingested do not count (Ex. five and a bite does not constitute a record).
Move over Cotoumas, I thought. There's a new sheriff in town.
We got to Kenmore about two hours before game time and made our way towards Landsdowne. We already may have had a cold one or two that morning, so I may have been at a "competitive disadvantage".
I remember rubbing my hands together in anticipation as we walked past the scalpers on the way to the Park. We grabbed some literature from John 3:16 who passes out letters of salvation. Then past the guy playing the plastic pail drum sets as the Cask n' Flagon entered our view.
Right next to Game On outside of Fenway's Gate E, I came face to face with the Sausage King. The familiar red and yellow sign framed the King and his Imperial Margarine Crown.
The Sausage King is owned by a pair of local brothers and boasts "Nine Inches of Pure Pleasure" to rookie patrons and repeat customers alike. Trust me, I've tried them all, and no one fills your buns like the King.
I know what you're thinking: what's a good Jewish boy like me doing eating sausage? Same question the Rabbi asked when I got a tattoo. Once again, Oops, my bad.
The Sausage King is the senior cart at Fenway and has been serving happy fans for 25 years. Their energy is perpetual from pre-game to post and they are as much a part of the Red Sox experience as the pee-pee trough and George the peanut vendor.
Tom told the guys of my quest and they laughed in unison, while setting me up with number one. Number two went into the on-deck circle before I took the first bite of my maiden meat. It was delicious.
Tender hot sausage heaping with perfectly grilled peppers and onions. A bit of the overflow spilled onto my hand as I opened wide and took on the leadoff hitter. Juice dripped onto my "Yankees Suck" t-shirt as I completed the first 16 percent of the task at hand.
Being a bit of a numbers guy, I started calculating "Nine inches of pure pleasure" times six and suddenly realized I'd be eating 4 1/2 feet of Jimmy Dean's before my day was done.
Well, one became two and two became three and Cotoumas' record was in jeopardy.
I was into the King lingo now and ordered up number four "On the Bottom", which means I wanted the onions and peppers on the bottom before they inserted their meat. Terms such as "Naked Bird" and "Bird Loaded" add to the Sausage King menu of chicken teriyaki, steak tips and foot long dogs, but I'm a guy who "likes it on the bottom."
Tom and the other PEP-direct guys started to crack jokes about Debbie and Dallas as I limped through number four. I was failing fast, but I was commited to gutting it out.
The crowd started to chant To-dd, To-dd like they had done to Daryl Strawberry in '86 as the Kings started to dress number five. I reached for the Ketchup. I had eaten the first four plain and some how thought that Ketchup would grease the skids.
And then disaster struck. Instead of grabbing the bottle of Heinz I grabbed the look-a-like bottle of Hot Sauce. I choked quicker than the Yankees after game three as sweat began to form on my upper lip.
One of the employees tried to warn me by saying , "Hey, not too much." But I truly thought he was being stingy about the ketchup. My wife claims, I don't listen to anyone. My bad, yet again!
I screamed "No Mas" like Roberto Duran vs. Hagler and waved a white napkin of surrender.
Cotoumas' record was safe for another day.
As we found our seats in Section 3, Tom headed to the beer line to grab us a beer. "Sausage, Todd?" he asked.
Thanks, TC. I think I'll pass.