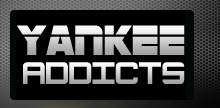 April 19, 2009 · Wesley Yee · Jump to comments
Article Source: Bleacher Report - New York Yankees
Yankees righty Chien Ming Wang entered Saturday's start looking to turn around his season. Wang allowed seven runs in less than four innings in his first start and added eight more in just one inning in his second.
Cleveland, off to a 4-8 start, looked like a good chance for him at home. Instead, Wang got blown away again, getting just four outs and allowing another eight runs. His ERA has shockingly risen each of his three starts to an astronomical 34.50.
This has been a ridiculous season for Wang, who won 46 games from 2006-08. He's no longer startable in any fantasy league and even holding him on a roster would be considered reckless gambling at this point.
The Yanks have to be pleased with what they've gotten from AJ and CC, but Wang is a big problem. They do have Phil Hughes and Ian Kennedy, but those two struggled big time last season. They may need to lean on their bullpen even more. Brian Bruney has been strong, but the rest of the pen has been less than serviceable.