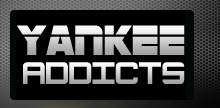 News published by
April 24, 2009
Two young aces take the hill tonight in the Red Sox first match-up of the season between the rivals. The season series starts in Fenway.   The Starters Yankees SP Joba Chamberlain is ...
April 20, 2009
Getting little problems ironed out during the first few games in a new stadium is natural. Getting used to the dimensions, how the ball plays off certain surfaces, and where ...
April 19, 2009
Yankees righty Chien Ming Wang entered Saturday's start looking to turn around his season. Wang allowed seven runs in less than four innings in his first start and added eight ...