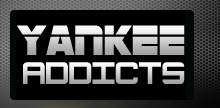 April 20, 2010 · Double G Sports · Jump to comments
Article Source: Bleacher Report - New York Yankees
Double G Sports entered the second week in Battle of the Blogs Fantasy Baseball as the leader in the Willie Mays Division. That is no longer the case, as Week 2 was a rough one for my team.
Week 2 Recap
I battled Perpetual Blogging Co. this past week. Looking back on the matchup, it seems my pitching was a disaster. Double G Sports lost every pitching category except one. So, I won at least one pitching category, right? WRONG! The only category I did not lose was "wins." Each of our teams had four wins by the pitching staff, so we tied in that one.
Overall my pitching staff had a 4.75 ERA for the week and was a major part of my loss. Perpetual Blogging Co. beat Double G Sports by a score of 12-7-1.
With the bad loss, my team has fallen to fourth place in the division and 6.5 games behind leader LongLive SheaStadium. The Mets blogger not only leads the division, but he also has the best record in the league with a .663 winning percentage.
Read the rest of the Week 2 Recap and a preview of my Week 3 matchup with Lady Loves Pinstripes at Double G Sports.
Read more New York Yankees news on BleacherReport.com