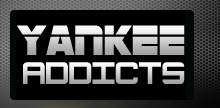 April 22, 2009 · Micheal Robinson · Jump to comments
Article Source: Bleacher Report - New York Yankees
Melky Cabrera started most of the games last season in center field. This season, he has company.
Brett Gardner has been used as the regular starter in center thus far this season and was given the day off.
Cabrera made the most of it.
In the bottom of the second, he followed a solo shot from Hideki Matsui, with a solo shot of his own, his third of the season.
He wouldn't stop there, hitting a two-run blast to right field off of former Yankee Dan Giese in the bottom of the 14th to send the Athletics packing.
He stared down the Yankees dugout on the way to first and rounded the bases with a big grin on his face before he was met at home plate for the first walk-off celebration and extra innings game ever at the new Yankee Stadium.
A record 26 homers were hit on the opening home stand, one more than the previous mark for a major league venue established at Kansas City's Municipal Stadium in 1955, according to the Elias Sports Bureau.
CC Sabathia went six and two thirds and gave up six earned runs and two walks. He continues to get behind in counts and it is causing his pitch count to be higher then it needs to be late in games.
He received the no decision after leaving with a 7-7 tie.
Brian Anderson started for the Oakland Athletics and gave up five runs on five and one-third innings pitched and received a no decision.
Jose Veras (1-1) was amazing in relief during extra innings. He pitched three and and one third, striking out four and never gave up a hit.
Veras' season ERA jumped down to 5.59 after it was at 8.53 after a rough outing against Cleveland on April 16 in where he gave up three runs and received the loss.
The Yankees threatened in the bottom of the seventh inning when they loaded the bases in the 7-7 tie with none out but couldn't get home a run.
The game lasted nearly five hours and the stadium was barely at half capacity when the game started due to the weather and a weekday afternoon game.
Not many fans were around to see the Yankees win their third straight game and move to three games above .500 at 9-6 on the season, just one game behind the Toronto Blue Jays in second place.
Derek Jeter continued his torrid season with a deep home run to center field that landed in Monument Park that broke a tie and briefly gave the Yankees the lead.
Jeter hit his fourth home run and his third double, but went 2-7 on the day and brought his average down to .286 on the season. However, he is still having a good year thus far in the leadoff spot.
Jorge Posada passed Yankee great Yogi Berra on the all-time doubles list with his 322nd double and asked third base umpire to retrieve the ball for a keepsake.
The Yankees are off on Thursday and then head to Fenway Park for their first series against rival Boston Red Sox this weekend.
On Friday night, Joba Chamberlain (0-0, 5.06) will face Jon Lester (1-2, 5.50 ERA) to open up the three game series.
In other Yankee news, Alex Rodriguez continues to rehab in Tampa and is running bases, taking tons of swings, and participating in drills at third base.
He remains on schedule to possibly return before the May 15 target date from his hip surgery.