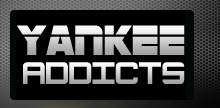 May 17, 2009 · Harold Friend · Jump to comments
Article Source: Bleacher Report - New York Yankees
The Red Sox were in their clubhouse after having beaten Kansas City to run their record to 27-15, but most of the players were not showering or changing into street clothes. They were watching television.
Red Sox Rooting for the Yankees
Jeff Frye, Boston's second baseman, said in disbelief, "Red Sox rooting for the Yankees."
Jim Leyritz asked, almost rhetorically, "How many times you going to see that?"
Jim Corsi answered the former Yankees' World Series hero. "That is the only time."
Toronto Rooted for David Wells
In Toronto, Pat Hentgen had also been watching television.
"It's incredible. I've known him for years and I couldn't be happier for him. He has a carefree attitude and just goes out there and pitches. When I saw his breaking ball in the ninth inning, it was electric."
Blue Jays' third baseman Ed Sprague added,
"He's definitely a free spirit. He's the kind of guy who doesn't do anything all winter. He doesn't pick up the ball. He just goes out there and throws the ball. He's been blessed with a great left arm. We were really pulling for him."
Joe Torre Said David Wells Could Pitch a No-Hitter
Only the Minnesota Twins were not rooting for David Wells.
On May 17, 1998, David Wells faced 27 Minnesota batters and retired all of them.
A few days earlier, Yankees' manager Joe Torre said that Wells' had so much ability that on any given day, he could pitch a no-hitter.
When Wells found out what Torre had said, Wells was skeptical. "Get out of here. I throw too many pitches over the plate and someone is bound to get a hit."
Tim McClelland's Strike Zone
It was a cloudy, overcast day, with a temperature at about 59 degrees on the first Beanie Baby Day at Yankee Stadium.
Wells preferred cool weather. Home plate umpire Tim McClelland called high fastballs strikes and called pitches that might have been an inch on either side of the plate strikes for both Wells and Twins' starter LaTroy Hawkins.
Scott Brosius Kept Quiet
Scott Brosius knew what could be happening as early as the fifth inning. Brosius was called out on strikes on a Hawkins fastball that he thought was just outside, but Scott kept quiet.
"I'm not about to stand up there and argue a call and then maybe have him change the zone for our pitcher the next inning. You take it and walk away."
Take Out Wells?
As the game continued, the Yankees' fielders became more intense. Chad Curtis pointed out that they were on hair triggers, jumping as Wells started his delivery, hoping to get a better jump on any batted ball.
After the seventh inning, Joe Torre, trying to break the tension, turned to pitching coach Mel Stottlemyre and asked Mel to tell Wells that he was being taken out for a relief pitcher.
In the ninth inning, David Cone was so nervous, he couldn't watch. Cone pulled his jacket over his head, an action he couldn't repeat on July 18, 1999.
Derek Jeter Almost Lost It
Wells almost lost the perfect game and the no-hitter in the eighth inning.
Marty Cordova hit a ground ball to the left side of the infield that Derek Jeter fielded, but the ball almost slipped out of his glove. The top of the ball could be seen at the end of webbing of Derek's glove, but he made the play.
"I almost missed it. I'm not going to lie."
Closest to a Hit
The next batter hit what was the closest thing to a hit the Twins would get. Ron Coomer hit a hard smash to Chuck Knoblauch's right that the second baseman knocked down, picked up, and fired to first for the out.
"I'll be honest with you. I'm not trying to downplay it, but it was just a normal play."
Right fielder Paul O'Neill caught Pat Meares' fly ball for the 27th out. O'Neill pumped his fist in the air for the no-hitter but he didn't realize it was a perfect game. He kiddingly asked Torre if he should heave the ball into the stands.
Celebrate With Pizza
The evening after the game, Wells, David Cone and Graeme Lloyd went to an upper east side Manhattan restaurant for pizza.
As the trio entered the restaurant, the patrons stood up and gave David a round of applause. Mets' catcher Todd Pratt led the contingent.
References:
It's Root, Root, Root for a Rival Team. (1998, May 18). New York Times (1857-Current file),C6. Retrieved May 17, 2009, from ProQuest Historical Newspapers The New York Times (1851 – 2005) database. (Document ID: 117001025).
By BUSTER OLNEY. (1998, May 18). Perfect Fit: Pitches, Weather, Umpire :Yankee teammates kept quiet, even at their own expense.. New York Times (1857-Current file),p. C7. Retrieved May 17, 2009, from ProQuest Historical Newspapers The New York Times (1851 – 2005) database. (Document ID: 117001028).
By RICHARD SANDOMIR. (1998, May 19). After Perfection, He's Toast of the Town :Toasting Wells's Perfection . New York Times (1857-Current file),C1. Retrieved May 17, 2009, from ProQuest Historical Newspapers TheNew York Times (1851 – 2005) database. (Document ID: 117061733).