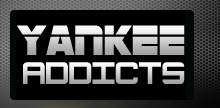 January 23, 2012 · Harold Friend · Jump to comments
Article Source: Bleacher Report - New York Yankees
Enos Slaughter stepped up to the plate. It was the sixth inning of the third game of the 1956 World Series. The Yankees were in lot of trouble.
After winning the first two games at Ebbets Field, the Brooklyn Dodgers were leading Whitey Ford and the Yankees, 2-1. The Yankees had to win the third game.
Hank Bauer was on third, Yogi Berra was on first and there were two outs.
Right-hander Roger Craig checked the runners and delivered. The Yankees led 4-2 when the pitch landed in the right field stands.
Ford went the route, allowing three runs—two of them earned—on eight hits. He walked two and struck out seven.
The Yankees had acquired Slaughter on waivers from their friends in Kansas City on Aug. 25, 1956, which has become an infamous day in Yankees' history.
The Yankees released Phil Rizzuto on that date to make room for Slaughter.
Slaughter, who spent most of his career with the St. Louis Cardinals, was known for his hustle.
In one of the most famous plays in World Series history, a play that Yankees fans will never let Boston Red Sox fans forget, Slaughter scored the run that won the Series.
Stan Musial remembers it well.
"The thing I remember," Stan Musial said, "was him scoring that run in the seventh game of the 1946 Series."
In the top of the eighth inning at Fenway Park, Slaughter was on first when Harry "The Hat" Walker lined a single into left field.
Slaughter scored from first when Johnny Pesky hesitated for a split second before firing home.
"The third base coach wanted him to stop," Stan Musial said, alluding to Mike Gonzales, "but he kept on running."
Slaughter hadn't always hustled. While in the minors, playing for Columbus, Ga., Slaughter trotted to first on an infield grounder. When he returned to the dugout, manager Eddie Dyer asked, "Are you tired, son?"
A surprised 20-year-old Slaughter said that he wasn't. Then he asked why.
"The way you ran, you looked tired," responded Dyer. Slaughter never again stopped hustling.
In 1985, Slaughter was elected to the Baseball Hall of Fame. He had retired after the 1959 season.
"My life is complete now," Slaughter told reporters. "I was never bitter before, but I was disappointed."
Reference:
Anderson, Dave (1985, March 7). SPORTS OF THE TIMES; Country's life complete now. New York Times.
Read more New York Yankees news on BleacherReport.com