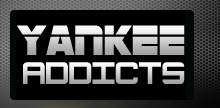 March 19, 2010 · Joseph DelGrippo · Jump to comments
Article Source: Bleacher Report - New York Yankees
I am not of the mindset to obtain some other team's castoffs. When a veteran player is released or available, usually the call from most Yankees fans is for the Yankees to sign the guy.
Reed Johnson, Rocco Baldelli, Randy Winn, and others were available for left field, and many pieces were written about the Yankees signing one over another. For the record, I wanted none of these guys.
Brett Gardner was very capable of playing left field (or even centerfield) on a full time basis, helping the Yankee team with his speed kills style of play.
People wrote endless articles abut the Yankees needing to sign free agents Jon Garland, Jarrod Washburn, or Erik Bedard or trading for Bronson Arroyo for their fourth and/or fifth spot in the rotation. The Yankees trade for Javy Vazquez for the fourth spot. I am extremely comfortable with the winner of Joba Chamberlain, Phil Hughes or Alfredo Aceves being just fine for the Yankees in 2010.
Any of the three getting 30+ starts this season will only make them better in future seasons.
I would much rather let our own guys pitch and play left field. I don't like signing aged players to take spots away from players drafted and developed from your own system.
But like a female who reserves the right to change her mind, the Yankees signing the recently released Elijah Dukes is not a bad idea.
Clearly, Dukes has had his share of off-the-field issues (none since mid-2007), and by all accounts had appeared to change his colors after being traded by the Tampa Bay Devil Rays to the Washington Nationals on December 3, 2007. After his last (and worst) incident, Dukes entered an anger management program and has appeared to improve his attitude.
Nationals President Stan Kasten said, "He (Dukes) never got any of the bad headlines everybody feared when he came here, and I think he deserves credit for that. If anyone says there was an incident, that person has no idea what he's talking about."
According to Nationals GM Mike Rizzo, it was strictly a baseball decision and that the Nationals did not feel Dukes was progressing as they hoped. Rizzo explained that major league pitchers adjusted to Dukes' talent, but then Elijah did not adjust well to major league pitchers changing their approach to him.
My take is that the Nationals did not give Dukes enough time to develop. The team also saves about $350K by releasing him in spring training.
Still only 25 (Dukes turns 26 on June 26—Derek Jeter's birthday), Dukes has amazing raw talent that also might not have been fully implemented due to a variety of leg problems.
In the 2008 season, Dukes' best in the majors, he hurt his hamstring on Opening Day, his knee on July 5 (requiring surgery), and then strained his calf on August 7. Despite the leg issues that season, Dukes still put up a line of .264/.386/.478, an OPS+ of 127 with 13 HR's and 44 RBI's in only 334 plate appearances.
The 122-point differential between batting average and on base percentage reveals Dukes has a keen batting eye, and his immense power potential forces pitchers to work around the hitter.
The Nationals tried to trade Dukes over the last two weeks, but had no takers. They probably were not expecting to get much for him, so it would not appear there are many teams interested.
And because it is the Yankees, Dukes would be better off signing with the Bombers for several reasons. First, one of the main reasons for the Yankees winning last year (besides spending over $400 million on FA's) was tremendous clubhouse chemistry.
Newcomers CC Sabathia, Mark Teixeira, Nick Swisher, and a surprisingly positive AJ Burnett added their leadership talents to those of Derek Jeter, Jorge Posada, and Mariano Rivera. The recent trade for Curtis Granderson this past offseason only enhances that Yankees clubhouse atmosphere.
Dukes would more likely continue his positive ways in that type of family atmosphere, and I do not see him causing a stir with all those established veterans around.
Second, the Yankees are the premier team in baseball and are coming off a World Series championship. If offered a deal, why wouldn't Dukes want to join this type of winning team. It is much easier (and more fun) to play for a winning team like the Yankees over losing franchises like the Devil Rays in 2007 or the Nationals the past two seasons.
Third, Dukes still has options left, and he does not have to be part of the major league roster just yet. The Yankees could send him down to the minor leagues to get back on track immediately after being released by Washington.
Although Triple A Scranton would be the usual minor league landing place, maybe an initial trip to Double A Trenton playing under manager Tony Franklin would help maintain Dukes' improvement to his attitude and anger management. Then after a month, Dukes can move up to Scranton before (based upon how Randy Winn/Jamie Hoffmann are doing) eventually making the trip to the Bronx.
Fourth, the Yankees lack minor league outfield depth at the higher levels, especially after trading top prospect Austin Jackson to the Detroit Tigers in the Granderson deal. While Colin Curtis has looked good this spring, he is not considered and impact guy. Lack of outfield depth is another reason why they essentially traded Brian Bruney to Washington for the rights to Jamie Hoffmann.*
If you are wondering why Dukes would sign with the Yankees and probably go to the minors again, it is not about Elijah Dukes now, but the Elijah Dukes four or five months from now. Unless Dukes gets an offer from the Boston Red Sox (not a chance), the Los Angeles Angels (highly unlikely), or the Chicago White Sox (a possible maybe), with the Yankees, Dukes gets a better chance at a ring.
Even with a minor league stint, the above Yankee scenario sounds much better than if Dukes signed with the offensively challenged San Francisco Giants or Kansas City Royals. Agreeing to return to the minors for a while would indicate again that Dukes has changed his attitude.
Most players want to play for the Yankees at some point in their careers. It has been that way ever since Babe Ruth created the dynasty in the 1920's and Lou Gehrig, Joe DiMaggio, Mickey Mantle, Thurman Munson, Don Mattingly, and now Jeter have helped carry the torch.
Do not fear the fact that the lowly Nationals released Dukes, as they are going in a different direction than the Yankees. With the Yankees, Dukes would provide a specific need—right-handed power with an ability to play all three outfield positions.
As a rebuilding team, the Nationals do not need specialization, and Dukes was expendable.
If Dukes doesn't work out on the field or his off-the-field antics again surface, the Yankees can simply cut him and lose a few hundred thousand.
With the off-field issues seemingly subsided, it would be wise for the Yankees to scoop up this premier athlete and see if regular play helps Dukes "adjust back to the pitchers."
*While Hoffmann has not looked very good at the plate this spring, that lack of outfield depth likely keeps him as a Yankee, possibly via a trade of Sergio Mitre to the Los Angeles Dodgers. That would allow Hoffman to play at Triple A at least to start the season .
Read more New York Yankees news on BleacherReport.com