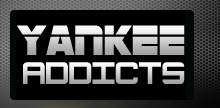 March 17, 2010 · Bronx Baseball Daily · Jump to comments
Article Source: Bleacher Report - New York Yankees
Former Tampa Bay prospect Elijah Dukes was released by the Nationals today.
Supposedly, this had nothing to do with off-the-field concerns, of which there have been many over the years.
According to The Washington Post, it was simply about baseball:
Manager Jim Riggleman said it was a strictly baseball decision. "We like some of our other options in right field, really," Riggleman said. "Elijah was great."
To be honest, that's hard to believe. Dukes is entering his age 26 season. Last year, he batted a mediocre .250/.337/.393, good for an OPS+ of 93. However, the year before, at age 24, he batted .264/.386/.478, good for an OPS+ of 127.
Dukes plays all three outfield positions, though how well is debatable. He put up a combined UZR of +11.6 in 2008, only to post a -9.6 last season. His defense seems to have suffered from the same regression his batting did.
Dukes has all the tools to be a good hitter and a plus defender. However, clearly Washington has decided that Dukes does not have the drive and focus to put it all together.
The Yankees spent much of the offseason searching for OF depth and currently are choosing between Brett Gardner, Randy Winn, Marcus Thames, and Jamie Hoffmann for the LF/CF position and two bench spots.
Could Dukes possibly be added to the mix? He doesn't have Winn's experience or Thames' pure power, but Dukes has a higher upside than all four of those players I named.
In general, Brian Cashman tends to stay away from guys with questionable character, but if Washington really just felt it needed to open up a spot for other guys, this could be something worth exploring. You also have to wonder if going to a team with the star power of the Yankees would actually help a player like Dukes.
If the Yankees could bring him in on a minor league deal, it would most likely be worth the risk.
Most Commented Posts
Read more New York Yankees news on BleacherReport.com