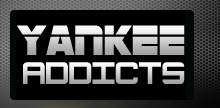 March 9, 2010 · Bronx Baseball Daily · Jump to comments
Article Source: Bleacher Report - New York Yankees
According to Jack Curry and Sam Borden, the Yankees have traded reliever Edwar Ramirez to the Texas Rangers for cash considerations.
Ramirez was designated for assignment when the club signed right-hander Chan Ho Park last week. Ramirez, 28, posted a 5.73 ERA and a uncharacteristic 1.22 K/BB ration in 22 innings for the Yankees before a demotion to Scranton. He went on to post a 3.18 ERA and 3.88 K/BB ratio in 59 Triple-A innings. He'll compete for a bullpen job with the Rangers, but he will likely spend the season with the Oklahoma RedHawks.
Read more New York Yankees news on BleacherReport.com