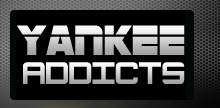 April 21, 2010 · Bronx Baseball Daily · Jump to comments
Article Source: Bleacher Report - New York Yankees
Not all of the former Yankees could fly in during opening day's ring ceremony to be with the team like Jerry Hairston Jr. did, but the Yankees have made an effort to reach out to a couple of former Yankees. Before yesterday's game, the Yankees presented right handed pitchers Chad Gaudin and Edwar Ramirez, both now with the Oakland Athletics, with their rings in an impromptu ceremony.
"It's going to be cherished forever," said Gaudin, who was on the postseason roster, but did not appear. "A lot of work, a lot of years, a lot of time and effort put into this."
"I'm really, really happy," said Ramirez.
Unfortunately we don't know much about how the other former players are getting their rings. Hideki Matsui was of course presented with his during opening day. As I said up top, Hairston flew in to the Bronx during his off-day. Hairston then brought Eric Hinske and Melky Cabrera, both with the Atlanta Braves, their rings.
Related Stories
Read more New York Yankees news on BleacherReport.com