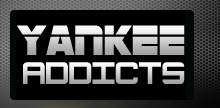 March 15, 2010 · Dan Hanzus · Jump to comments
Article Source: Bleacher Report - New York Yankees
Robinson Cano has a way of making things look easy on the baseball field.
This is both his greatest blessing and biggest curse.
New York sports fans don't like when things look easy. We appreciate effort. Effort means you're taking the game as seriously as we are.
Paul O'Neill chasing down Luis Polonia's drive up the gap in Game Five of the '96 Series, that was hard work. Mickey Mantle barely able to drag his shot legs around the bases after hitting his 500th homer off Stu Miller…that took effort. Every devilish pitch David Cone summoned out of that accountant frame of his, he earned each one of those 194 wins.
It's not like that for Cano.
How many times have you seen him go behind second base to turn a sure base hit into a routine out, snatching the ball with his backhand and sidewinding it to first in one fluid motion? How many times have you watched the replay and marveled how easy it looked for him?
Derek Jeter requires a full-on sprint and jersey caked in dirt just to get in the same time zone on a play like that. Has Cano ever laid out for a ball in his life?
Sometimes perception becomes reality.
Cano was just a few months removed from Triple-A in 2005 when Joe Torre compared his new second baseman to Rod Carew. This was heady talk, but it didn't seem to bother the 22-year-old, who finished second in American League Rookie of the Year voting that season.
His next two seasons continued the trajectory of a future star. He was an All-Star in 2006, batting .342 and winning the Silver Slugger award at second base. The 2007 season brought more success, with career highs in runs, hits, homers, RBI, and walks.
The Yankees rewarded Cano with a six-year, $55 million contract extension prior to the '08 season…and he responded with the worst season of his career. Cano's batting average dropped 35 points, his on-base percentage plummeting 48 points to a lowly .305.
Suddenly, those nagging perceptions about Cano appeared to hold water. Did the money change him? Was he partying too much? Had he lost interest?
Once viewed as the franchise's next big thing, Cano was now part of the problem. The Yankees missed the postseason for the first time in 14 years in 2008, and Cano was as culpable as anybody.
For the first time in his career, Cano was being challenged.
We all know how he responded. The 2009 season was bounce back year for the Yankees and their second baseman, as Cano's production returned to pre-2008 levels and his defense drew rave reviews.
Building on the momentum of a season ago, the Yankees will ask more of Cano in 2010. Joe Girardi strongly hinted that the lineup he posts on Tuesday will be the same lineup that opens the season in Boston next month.
Cano will bat fifth, a premium production slot in the game's most loaded lineup. It's a move that signals the Yankees' hope that Cano becomes a triple-digit run producer in his sixth season.
It's an act of faith by a team that believes its young star can tackle the last hurdle that stands between him and perennial MVP contention—his struggles with men on base. Cano was barely a .200 hitter with runners in scoring position last season, and that simply won't fly when you're hitting in front of three potential Hall of Famers.
Will Cano be able to produce when it counts? This will be a key subplot of the new season.
The time has come for Cano to take the next step, from complementary piece to franchise focal point. He's a player that makes everything look easy, but this will be his toughest challenge yet.
Dan Hanzus writes the Yankees blog River & Sunset and can be reached via e-mail at dhanzus@gmail.com. Follow Dan on Twitter at danhanzus.
Read more New York Yankees news on BleacherReport.com