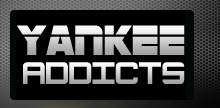 May 18, 2009 · Micheal Robinson · Jump to comments
Article Source: Bleacher Report - New York Yankees
Tony Pena was in the Yankees dugout in the bottom of the 10th and called the walk off home run by Johnny Damon.
In a 2-2 tie in the bottom of the tenth, Johnny Damon unloaded on a full count pitch from right-hander Jesse Crain.
Why a right handed pitcher is in there against Damon and pitching a ball where he pitched it as hot as Damon is right now is beyond me.
As he rounded third base and headed home, Damon threw his batting helmet in the air and Alex Rodriguez and Melky Cabrera both went for it. Melky jumped in front of A-Rod to catch it but seconds later, A-Rod snatched it out of Melky's hand. That's just the kind of fun this team is having right now.
The fun doesn't stop there, this is the Yankees fifth win in a row as they are now three games above .500 and have won five in a row.
Rodriguez was pied by AJ Burnett on Saturday and Burnett struck again on Sunday, slapping a pile of whipped cream on a Yankees t-shirt and throwing it into Damon's face before his post game interview.
The last three wins are all walk off wins. Friday, Melky Cabrera ended it with a RBI single. Saturday, Alex Rodriguez hit his fifth walk off home run as a Yankee, a two run shot in the 11th inning. Then the latest, Damon's homer on Sunday.
The Yankees haven't won three games via walk off since 1972.
Alex Rodriguez hit a long ball in the seventh inning. A solo shot, to put the Yankees on the board and make it 2-1 to begin the rally. The home run was his third of the year since returning last week.
Brett Gardner almost won the game in the bottom of the ninth when he rounded third to go home, but Mauer faked a throw to first and tagged Gardner out on a bang-bang play.
The Twins aren't having good luck in the Bronx, losing 22 of 25 games in New York.
"This is great, three straight walk-offs, this is pretty exciting for us," Damon said. "Hopefully this means we will start playing better and things feel good right now."
Right handed Alfredo Aceves got another win, his second in a row, after he pitched a scoreless inning of relief in the tenth. He is now 2-0 on the year with a 2.16 ERA.
AJ Burnett pitched a great game but got himself into trouble in the seventh and gave up the two Twins runs. The six walks he surrendered did him in.
The Yankees bullpen came through with 3.1 innings of scoreless relief to lift the Yankees to the comeback, their 14th come from behind victory this season.
Toronto Blue Jays won again on Sunday and they remain four and a half games ahead of the Yankees, but the Red Sox lost and moved to just a game and a half ahead of New York.
Up next for the Yankees is the final game of a four game set against the Twins on Monday. Left handed Glen Perkins (1-2, 4.27) for the Twins will take on Andy Pettitte (3-1, 4.00) will throw for the Yankees.
Perkins is only the second left-handed starter to face the Yankees since Alex Rodriguez's return to the team. He hits well against south paws and shouldn't disappoint on Monday.