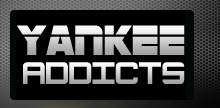 December 12, 2012 · Anthony Maimone · Jump to comments
Article Source: Bleacher Report - New York Yankees
New York Yankees General Manager Brian Cashman must believe in one of two things. He must either believe in keeping your friends close and your enemies closer or the enemy of your enemy is your friend. No other reason can explain why, according to Ken Rosenthal of FoxSports.com, the Yankees have just signed former Red Sox Kevin Youkilis to a one-year contract worth $12 million.
The Yankees have spent their money wisely re-signing key players such as Mariano Rivera, Andy Pettitte and Hiroki Kuroda. They have let other free agents who were out of their price range rightfully walk, players such as Russell Martin and Nick Swisher.
Unfortunately, bad news can often lead to bad decisions. The injury news on Alex Rodriguez left a gaping hole at third base for this season. Cashman attempted and failed to fill that hole with low-risk replacements. So desperate times called for desperate measures, and the first desperate measure comes in the shape of a 33-year-old third baseman with frequent back pain.
The issue with this move has little to do with the financial impact. It's only a one-year deal.
The issue isn't that he is a former Red Sox. The Yankees have had great success bringing in former Red Sox players such as Wade Boggs, Roger Clemens and most recently Johnny Damon.
The issue is he is just another aging player with declining skills who was just traded away by your biggest rival. That, to me, is a HUGE red flag.
Youkilis is no longer the Greek God of Walks. According to FanGraphs, Youk finished 2012 with his lowest walk rate since 2008. Add the second-highest strikeout rate of his career and an OPS that has declined each of the last three seasons, and you begin to wonder what there is to gain by this signing.
The other curious part of the signing is that it happened to fill a hole left because of an injury to ARod. ARod and Youkilis played in the same amount of games last season. Youk has not played in more than 130 games in a season since 2009. There is no good in signing a replacement that you might have to replace as well.
Then there is the fact that Youk has not only never been a real favorite of Yanks fans, he has had his issues with current players on the Yankees current roster. There is no love lost between Youk and Yankee relief pitcher Joba Chamberlain. Their issue dates back several years now, but it is never good to rehash old memories.
It is also no secret that Youk was shipped out of Boston for being a clubhouse cancer. He could not get along with then-manager Bobby Valentine last season. Also, according to a story written by Jackie MacMullen of ESPNBoston.com, Youk often found himself in the center of the chemistry problems that doomed the Red Sox in 2011.
Cashman can hope that the veteran leadership that is already established on the roster can help control Youk. He can also hope that Youk sees this as an opportunity to right some past wrongs and change the overall opinion of him around baseball.
The risk-reward of this signing just doesn't seem to equate, and the Yankees would have been much better served giving a young player a chance to blossom. Cashman was doing a solid job this offseason of bringing back players he can trust to the roster. Which is what makes this move a major head-scratcher.
Read more New York Yankees news on BleacherReport.com