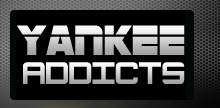 March 20, 2010 · Bronx Baseball Daily · Jump to comments
Article Source: Bleacher Report - New York Yankees
Kanekoa Texeira is a hard-throwing right handed pitcher who the Yankees got as part of the trade with the White Sox for Nick Swisher.
Pitching in double-A Trenton last season, he went 9-6 with a 2.84 ERA in 41 games and 101.1 innings. Good, but not great, numbers.
Unfortunately for Texeira and the Yankees, he didn't have the outstanding talent to warrant protection on the 40-man roster, and he was drafted by the Seattle Mariners in the Rule 5 draft.
So far this spring Texeira hasn't gotten a ton of work—he's been in six games for a span of 6.2 innings—but apparently that has been enough time for the Mariners to realize that they are keeping the 24-year-old around.
According to Geoff Baker at the Seattle Times , Cliff Lee 's five-game suspension means they are likely to at least carry Texeira on the roster for the first week of the season. Even after that, Baker writes that the Mariners like him enough to keep him on the roster after Lee returns, or they will try to work out a trade with the Yankees.
Baker seems to think that it might be hard for the Mariners to work out a deal with the Yankees because of how impressive Texeira has been.
It's not that the Yankees wouldn't love for him to come back, they certainly would, but the Yankee bullpen is pretty crowded right now, and unless they deal some pitching away Seattle could have an easier time striking a deal with them.
It's certainly possible that the Yankees—who would also like to keep their own Rule 5 draftee Jamie Hoffmann —and the Mariners could work together on a three-team deal with the Dodgers where everyone could keep their Rule 5 picks.
It is far fetched, because at this point Hoffmann isn't making a strong case to make the Yankees out of spring training…but considering their outfield depth in the farm system, they'd certainly like to keep him.
Related Stories
Read more New York Yankees news on BleacherReport.com