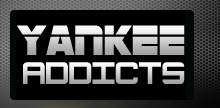 June 12, 2009 · Nick Poust · Jump to comments
Article Source: Bleacher Report - New York Yankees
Boston Red Sox shortstop Nick Green lined a hanging curveball from New York Yankees starting pitcher CC Sabathia right in front of left-fielder Johnny Damon. The rally had begun.
Sabathia, having already thrown 111 pitches, fired number 112 in for a strike against Dustin Pedrioa. The reigning American League Most Valuable Player laid off a high fastball, checking his swing for ball-one. The next pitch also missed, and Pedroia, a very patient hitter, watched it hit rookie catcher Fransisco Cervelli's glove for the second ball.
Pedroia, all 5′8″ of him, swung mightily at a heater from Sabathia, whacking the pitch into the stands, evening the count. He fouled off the next, then the next, and the next, and the next.
Sabathia missed high for ball-three, then high again. Pedroia tossed his bat towards the dugout and jogged to first base. He won the 10-pitch battle. The Red Sox, with two on and none out, were in business.
Five innings earlier, David Ortiz, a pull hitter in the midst of a horrid slump, drove the ball to the opposite field. He rarely does this, which is part of the reason for his struggles.
Clearly hampered by the lingering effects of a wrist injury suffered last season, Ortiz could make life easier on himself and take pressure off his wrist by playing wall-ball off the Green Monster on a regular basis. In this instance, he cleared the 37-foot wall, reaching the seats high above Fenway's field for his third home-run of the season.
This run was all Red Sox starting pitcher Brad Penny would need. He scattered six hits–five singles and a double–over six shutout innings. Well over 100 pitches himself, Penny fired in 96 miles-per-hour fastballs at will, but disposed of his final hitter, Hideki Matsui, on a changeup.
He was magnificent, mowing down the Yankees as he did the last time he faced them, in Game Five of the 2003 World Series with the Florida Marlins. Because of his high pitch count, though, six innings was his limit, which meant an assortment of pitchers would have to patch together three shutout innings in order to sneak by with a slim win.
Reliever Manny Delcarmen, who came into his appearance with a 1.07 ERA, quickly wasted Penny's outing. He allowed a single to his first hitter, Melky Cabrera, then a double to his second, Cervelli, that plated the tying run. Just like that, New York gained control.
After a lengthy exchange with Derek Jeter, Delcarmen got the Yankees captain to hit a come-backer to the mound, forcing Cervelli to stay at second base.
Of all the hitters in New York's lineup, Jeter would conceivably be the last one to fail in such a crucial situation. Surprisingly he did, but Delcarmen didn't take advantage, and proceeded to walk Damon.
Mark Teixeira, the next hitter, tagged a pitch to deep-center, but Rocco Baldelli corralled it for the second out. Alex Rodriguez, who has been struggling of late, followed, and didn't give in to Delcarmen, crushing a full-count fastball into the left-center gap.
Both Cervelli and Damon scored. The Yankees had the lead and a chance to end their losing streak to the Red Sox.
After tossing a scoreless seventh inning with the lead, Yankees manager Joe Girardi sent Sabathia out for the bottom of the eighth. Sabathia is payed solely to excel in these situations, so Girardi, despite the fact that he had already thrown 111 pitches, had no choice but to leave him in. The lefthander's getting paid $15 million this season.
For that kind of money, New York expects greatness, for him to dominate these situations. As few have in recent years, he couldn't live up to the contract. It's karma for a franchise built on the philosophy "Buy instead of develop." Sabathia is the new blood.
Girardi visited Sabathia on the mound after the ace gave in to Pedroia. Sabathia was clearly worn down, but his manager stuck with him, despite the trouble he found himself in and his rising pitch count, which exceeded 120. Though it's June, early in the season, the Yankees needed this win.
They had lost seven straight to Boston, owned by their rival. Sabathia, they thought, would steer them in the right direction, give them a sliver of confidence and a glimpse of hope. He could not, as the superior team continued to dominate.
Having lost the location of his fastball, Sabathia started off J.D. Drew with a slider. That pitch didn't work either. Red Sox right-fielder J.D. Drew took the offering right down the middle. Sabathia, inexplicably, threw another in the exact same spot.
This time, Drew didn't lay off, stroking the pitch into center-field. Now that Sabathia had given the Red Sox all of the momentum back, Girardi promptly pulled him.
His replacement, Alfredo Aceves, didn't fair much better. His performance epitomized the Yankees woes, especially in the bullpen. They don't have adequate setup-men to give closer Mariano Rivera the ball with the lead.
Even when they do, Rivera isn't a sure-thing anymore. So, Girardi not only sent Sabathia out to start the eighth inning because of his stature, but because there wasn't a better option.
Aceves proved this, adding to the Yankees bullpen woes. A Kevin Youkilis single loaded the bases, which meant Boston's leader in RBI, Jason Bay, would have a prime opportunity to up his total of 56 on the year. He did, tallying No. 57, lining the first pitch to left, plating Pedroia to tie the game. Mike Lowell completed the rally, with a sacrifice-fly.
Red Sox closer Jonathan Papelbon did what Sabathia and Aceves could not, finishing off another sweep of the Yankees with a perfect ninth inning. Boston has shown they can beat New York in any fashion.
It has not mattered if they're at home or one the road. It's just been a question of when: do we want to lower the boom early or toy with them for seven innings, then explode late? For win number eight, it was the latter.