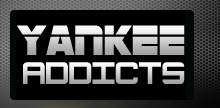 November 21, 2012 · Ian Casselberry · Jump to comments
Article Source: Bleacher Report - New York Yankees
Regarding Derek Jeter and his readiness for next season, what we may have here with the New York Yankees is a failure to communicate.
General manager Brian Cashman told the New York Daily News' Mark Feinsand that Jeter is expected to be ready for opening day. However, manager Joe Girardi said to the New York Post's Dan Martin that the Yankees shortstop still can't put weight on his fractured left ankle and might miss the beginning of the season.
But it might be what the Yankees are reportedly doing behind the scenes, rather than what Cashman and Girardi are telling the media, that might indicate their true feelings about Jeter.
If Jeter's recovery from the broken ankle suffered during the ALCS wasn't a concern, would the Yankees be showing interest in free-agent shortstop Stephen Drew? Or is Cashman trying to cover all eventualities here while also trying to improve his team's infield depth?
When Jeter originally suffered a broken ankle in mid-October, the initial prognosis was that he would be out for three months. But the Yankees shortstop required surgery to repair the injury, pushing his recovery time to four or five months.
That would take Jeter into spring training and could affect his preparation for the regular season. But players often say they don't need more than a couple of weeks to find their timing at the plate and on the field. It's not like the old days when players used spring training to actually get in shape for the season.
But Jeter will likely require more time to get ready this spring, especially if he's not putting weight on that left ankle yet.
What isn't known, as an orthopedist explained to Newsday's Erik Boland, is whether Jeter may have suffered ligament damage in the ankle in addition to the fracture. Remember, he hurt the ankle before the fracture. That would obviously add to his recovery time.
If all goes according to schedule, however, Jeter is expected to begin running in mid-January. That would give him plenty of time to be ready for opening day.
However, the Yankees' reported interest in Drew, according to CBS Sports' Jon Heyman, apparently isn't an indirect statement on Jeter's health. Cashman's intent for checking in on Drew is to see if he might be interested in playing a utility, super-sub role to build his value back up after a subpar season in which he was working his way back from injury.
This season, Drew hit a combined .223 with a .657 OPS with the Arizona Diamondbacks and Oakland Athletics. At his best, before he suffered a broken right ankle in 2011, Drew is capable of hitting .270 with a .760 OPS, 15 home runs and 70 RBI.
Additionally, Drew is an above-average defensive shortstop. Before breaking his ankle, FanGraphs' Ultimate Zone Rating (UZR) said Drew saved nearly five runs more than the average player at his position. This year, Drew cost his team five runs more than a replacement level shortstop would. He also allowed seven defensive runs saved.
But Drew's lateral movement and range were affected as he recovered from a gruesome ankle injury. Next season, he will presumably be at full health, closer to the player he was previously.
What the Yankees' interest in Drew may really demonstrate is an indictment of Eduardo Núñez.
Núñez's defense has been a concern for the Yankees and he did nothing to alleviate those issues in 2012. UZR measured Núñez as a below-average defender at both shortstop and third base. However, he did hit well in the regular season and postseason.
Drew would presumably be a defensive upgrade on the left side of the infield, as well as second base.
However, he has never played any position besides shortstop during his professional career. The presumption is that Drew is athletic enough to move to third base or second base, if necessary. But this is yet another reason why some suspect that Drew is insurance at shortstop for Jeter.
Yet Drew might not have to settle for taking a reserve role and trying to build his value back up.
Other teams have shown interest in Drew as their starting shortstop. The Detroit Tigers are reportedly pursuing Drew—according to multiple outlets, including MLive.com—and envision him taking over for Jhonny Peralta, who would then be dealt to Arizona. The Boston Red Sox are also reported to be in the mix.
So all of this conjecture could be a moot point. It might come down to whether Drew wants to play for the Yankees and if he believes his value could be higher as a free agent next year.
But a starting gig with playoff contenders like the Tigers and Red Sox would surely be hard to turn down. Even if he signed only a one-year deal with those teams, being a starter on a contender should boost his value more than being a reserve who might not play much if Jeter and Alex Rodriguez are healthy. It might also result in a better contract now.
If Drew does end up signing with the Yankees, that may say more about Jeter's status for Opening Day and the beginning of the season than anything Cashman or Girardi could offer to the New York press corps. Having a starting-caliber shortstop on hand could be crucial.
Follow @iancass on Twitter
Read more New York Yankees news on BleacherReport.com