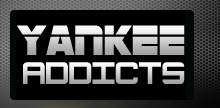 News published by
January 31, 2013
Assuming that the New York Yankees will automatically get the best players because they'll spend the most money or trade prospects with no regard for the future is so 2009.Before ...
January 29, 2013
If Alex Rodriguez ends up missing all of the 2013 season following hip surgery, it might end up being a fortunate development for him. That is, in terms of avoiding the ...
January 11, 2013
The New York Yankees have conducted business during this offseason under a mandate from principal owner Hal Steinbrenner. The team's payroll must be under the $189 million luxury tax threshold ...
January 9, 2013
The good news for Adam LaRoche means bad news for Michael Morse.LaRoche agreed to a two-year, $24 million contract with the Washington Nationals (via Washington Post), with whom he had ...
December 12, 2012
Trying to retool an aging roster while also attempting to compete for playoff spots and championships is one of the most difficult balancing acts in sports. That's where the New York ...
December 11, 2012
As long as Josh Hamilton is available on the free-agent market, some reporters, analysts and fans are going to attach him to the New York Yankees.It's just too good of ...
November 30, 2012
Welcome to 2012, when the Pittsburgh Pirates outbid the New York Yankees for a free agent. Catcher Russell Martin agreed to a two-year, $17 million deal with the Pirates on Thursday ...
November 27, 2012
One reason the New York Yankees are not—and should not be—interested in re-signing reliever Rafael Soriano to the four-year, $60 million deal he's reportedly seeking is because there are plenty ...
November 21, 2012
Regarding Derek Jeter and his readiness for next season, what we may have here with the New York Yankees is a failure to communicate.General manager Brian Cashman told the New ...
November 20, 2012
New York Yankees principal owner Hal Steinbrenner has publicly stated his intention to get the team's payroll under the $189 million luxury tax threshold for 2014. He's all but declared ...