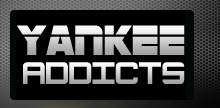 April 23, 2009 · Perry Arnold · Jump to comments
Article Source: Bleacher Report - New York Yankees
During the 2003 American League Championship Series, New York Yankee captain Derek Jeter told Aaron Boone to wait until the ghosts came out in the Stadium.
Shortly after that, Boone hit a Tim Wakefield knuckleball into the night and the Yankees returned to the World Series.
Jeter believed that the ghosts of great players and great teams kept watch over the Old Yankee Stadium and funny things happened that had no normal explanation.
Paranormal forces must have been at work.
Jeter has also expressed a desire that the ghosts follow the team across the street to their new digs when they opened the stadium last week.
But Jeter may have gotten more than he bargained for.
After watching the first six games played in the new Yankee Stadium, one has to wonder whether the ghosts are somehow unhappy and have decided to haunt "The Palace of Baseball" instead of bless it, as they once did "The Cathedral of Baseball."
One may wish to start with all the empty seats. Have the poltergeists kept fans away from the games, or are the prices what scares people away? It sure looks strange to watch the games on television and see so many empty spaces.
Then there are the strange air currents that seem to dominate this new field. There seems to be a jet stream that is rushing out toward the right field seats.
This phenomenon has been the speculation of sportswriters, meteorologists, and engineers alike. But no normal explanation seems to fit.
After all, the field dimensions are exactly the same as in "The Cathedral." But balls seem to be flying out to right in an unprecedented way.
In the six games played there so far, a total of 26 home runs have left the field. That set a new Major League record for home runs hit in an opening home stand at a new field.
Of those 26 dingers, 17 cleared the fence in right or right centerfield. Only seven went out in left and two in center field.
One may pause to ask: "Are you complaining about home runs? What's wrong with home runs? Didn't Major League Baseball make rules changes to get more offense into the game? Don't fans enjoy seeing balls leaving the field?"
There is nothing wrong with home runs. Unless, that is, you have designed your team around pitching and plan to pay more than one quarter of a billion dollars over the life of contracts to two starting pitchers you signed in the offseason.
Speaking of which, one must wonder whether apparitions have begun to haunt one of those prize pitchers.
CC Sabathia was signed in the offseason for something north of $23 million per year, with the expectation that he would be the real hoss in the Yankee starting rotation that it had been missing.
Sabathia started the home opener for New York against the Cleveland Indians and was less than stellar. He pitched into the sixth inning but could not earn a win, despite giving up only five hits and one earned run.
But he wasn't the Sabathia we hoped for, walking five and striking out only four. His team would eventually lose the game 10-2, and Sabathia's inability to go longer in the game resulted in the use of five relief pitchers over the remaining three and one-third innings.
In the final game of the stand on Wednesday, Sabathia started again, this time against Oakland. He pitched an inning longer than on Thursday, but his results were worse.
He managed to escape without another loss because his team pulled his bacon out of the fire later in the game. And that is a lot of bacon to be hauling around.
But in six and two-thirds innings yesterday, Sabathia gave up seven earned runs, walked four, and struck out only two. Six relief pitchers would have to follow him for the Yankees to get the win.
During the game, Sabathia was looking around helplessly as though he could not conjure up a reason for his failure. He may be so desperate when he takes the mound again that he brings a chicken foot and a ring of garlic to keep the evil spirits away.
Another starter has been even worse and has been sent to Florida in the hope that some of his ghosts can be exorcised by the warm winds in Tampa.
Chien Ming Wang started the game against Cleveland on Saturday that turned into a farce. Cleveland ended the game with 22 runs, but by that time Wang would be long gone and relief pitchers would be required to work overtime again.
Wang got only four outs in the game while giving up eight hits and eight earned runs. When he was pulled, his cumulative ERA for the year was 34.50.
It certainly seems Wang is haunted.
But the entire place seems subject now to the bizarre and unexplained. How, for instance, can you explain the almost constantly reliable Jeter making a throw home in yesterday's game only to find that there was nobody there to catch it?
Jorge Posada had inexplicably left his position at home plate and began to jog down the first base line with a runner on third.
Some evil had obviously overcome the Yankee backstop as he was spirited down toward first while the A's runner sauntered home and Jeter threw to no one.
Earlier that same inning, the ephemeral mists of spirits past must have clouded Johnny Damon's eyes as he came in on an easy short fly ball to left field. The ball hit his glove and dropped harmlessly to the grass as former teammate, Jason Giambi, took first.
There was certainly no earthly explanation for Damon's error. But these are the types of occurrences that dominated the first six games in the new playground. No baseball purist could help but be haunted by the spectacles.
There were 134 hits in six games—That is an average of more than 22 hits per game.
There were 83 runs scored in the same games—That is an average of almost 14 runs per game.
There were 65 walks allowed by a total of 57 pitchers—That is just short of 11 walks per game and just short of 10 pitchers used in each game.
But if you really want to lose sleep and wake covered in a chilled sweat, consider this: Even though there were almost 14 runs scored per game, there were 217 runners left on base.
That averages out to be more than 36 runners left on base in every single game.
Consider one more fact: In Saturday's game where Cleveland scored 22 runs, including 14 runs in the second inning alone, the Indians left 24 runners on base.
If you are a more traditional fan of baseball and were at the games or watching from home, there was something else that may haunt you for a long, long time.
There were two separate incidents that led to replay review by the umpires.
First, there was an eight and a half-minute delay in the game on Sunday while umpires tried to decide whether Posada had hit a home run in the seventh inning.
After standing around on the field for an interminable amount of time, two of the blind mice retreated to safety under the stands and reviewed television footage of the ball going over the wall, hitting the arms of a fan and then bouncing off the top of the wall and back onto the field of play.
It was finally decided to allow Posada, who by that time had his "tools of ignorance" back on and was perched comfortably in the dugout, to keep his home run.
In the final game yesterday, A's catcher Kurt Suzuki stroked a second-inning offering from Sabathia toward the wall in left field. A couple of fans in Kelly green ponchos got so excited they couldn't help but become part of the game.
The ball descended toward Damon's glove, but a man in green got it first. After another replay review, the arbiters of the rules of the game determined there was no fan interference and that Sabathia had surrendered the four-bagger.
If these spectral occurrences continue over the course of 81 games, it will be an interesting year in New York.
But it would not seem that Jeter will have gotten his wish that the ghosts of Yankee Stadium follow the team across the street.
These are evil forces for fans of good baseball, and unless Joel Osteen can send them away with his evangelical crusade Saturday night, Hal Steinbrenner might want to see if Pope Benedict has any plans for later in the year.
A large vat of holy water may be required for this exorcism.