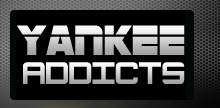 April 1, 2010 · Bronx Baseball Daily · Jump to comments
Article Source: Bleacher Report - New York Yankees
Fair warning: this post is a rant about Javier Vazquez.
Here's what I don't get about the Javier Vazquez trade: How is it not a bigger deal? Let's look at what Brian Cashman did.
He turned a young outfielder, who for his career has been a league average player at best and was due over $3 million in arbitration, along with a promising but very far away pitching prospect, into a front-line starter.
Yet there exist people who don't think this was a good deal for the Yankees? Yes, I know Vazquez had a down year when he pitched in NY in 2004. But let's not get carried away. Let me present you this quote:
"Is Javier Vazquez really that much of an upgrade over Sergio Mitre ?"
That quote comes courtesy The Sports Guy's latest ESPN podcast , spoken by Yankee fan Jack-O. I was listening on my way to work this morning and I almost swerved off the road.
The answer to Jack-O's question, is, of course, YES! A thousand times yes. Vazquez was quite possibly the second best starter in the NL last season. Mitre has never in his career pitched a season in which he was even league average. And to be honest, I really like Mitre. I think he was a great low-cost investment, as he has the potential to improve and gives the Yankees some depth as a sixth or seventh starter or a longman in the pen.
But better than Javier Vazquez?
Vazquez's worst year was obviously 2004 (though that is skewed by his terrible second half when he posted on ERA of almost seven and battled a tired shoulder and pink eye). Even in that terrible season, he had a WHIP of 1.288. Mitre has never posted a WHIP below 1.4 (and the season he did that, it was only over 60 innings).
Since 2000, Vazquez has never thrown less than 198 innings in a season. Mitre has never thrown more than 149, and he got hurt after that season.
I won't go on, because any intelligent person should already derive that this is not even a comparison worth making.
Now, was Vazquez a disappointment in 2004? Of course he was. Yankee fans hoped he'd be the ace of the team for foreseeable future and that never panned out. And I don't expect that Vazquez will have the same sort of success in the AL East this year as he had in Atlanta last year.
But re-acquiring Vazquez was a great deal for the Yankees. The Yankees aren't acquiring their future ace; they're acquiring a 200-inning workhorse who tallies up a lot of strikeouts to be their fourth starter.
Part of the solution to my problem is to just stop listening to these podcasts. It's not just Jack-O though; his basic arguments are all over WFAN and other NY media outlets (Vazquez is "not clutch," "can't play in NY," etc.). I know that I'm likely simply preaching to the choir in addressing this to the Yankee blogging community, but sometimes it feels good to rant.
Read more New York Yankees news on BleacherReport.com