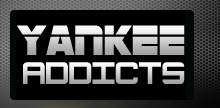 June 13, 2009 · Danny Pazos · Jump to comments
Article Source: Bleacher Report - New York Yankees
What? Didn't Livan get the message?
You don't pitch to Hideki Matsui, in the sixth inning, on his birthday!
AND with two men on? Come on Jerry Manuel, why did you let Hernandez pitch?
Everyone in Yankee stadium saw that one coming.
It is practically common knowledge!
Well, if you were one of the few people who DID NOT know that it is, in fact, a bad idea to throw to Matsui in the sixth, on his birthday, WCBS AM in New York was kind enough to point out the reason why.
On Friday night Matsui stepped to the plate with two men on base.
In a bit of a slump, Matsui had only nine home runs on the season, prior to last night.
What the Mets forgot; it was his birthday, and on his birthday Matsui is bound to come through, especially in the sixth inning.
Well, at least for the past two years.
Matsui proceeded to jack a "thrilla from Godzilla" into the stands, with a monster three run home run.
Silly Mets, didn't you check the history books.
Last year, against the Athletics, in the sixth, on his birthday, Matsui hit a grand slam off Joe Blanton, and the Yankees went on to win four to one.
Matsui's grand slam in was the sole run producer for the Yankees that night, and that was all they needed to put up a W in the win column.
The home run on Friday against the Mets wasn't exactly the game winner, but at the time, put the Yankees up seven to six.
Obviously, the right call was to walk Matsui intentionally and load the bases.
The Mets could have tried to get Melky Cabrera out, it wasn't Melky's birthday.
But, the Mets didn't brush up on their Hideki Matsui, Yankee baseball facts, and they paid for it when history repeated itself.